- Acquisition of Goal Zero to help NRG empower the modern mobile lifestyle with solar power and battery-pack products -
PRINCETON, N.J.--NRG Energy, Inc. (NYSE: NRG) has completed its previously announced acquisition of Goal Zero, bringing the rapidly growing consumer products company and its suite of personal solar devices into the NRG family.

"Every American deserves the right to experience the benefits of solar power regardless of whether they own a roof suitable for residential solar installation," said David Crane, President and CEO of NRG. "Goal Zero's line of solar and energy storage products combine the best features of solar energy: a readily portable energy source for our customers' mobile lifestyles, reliability disconnected from the increasingly unreliable grid and, of course, ready access to the sun's inexhaustible supply of free and clean energy."
In 2009, Robert Workman created Goal Zero after experiencing the challenges associated with the lack of basic access to electricity in developing countries. Goal Zero designs products that give users the freedom to go anywhere, powering devices in a variety of situations, from charging gear on a camping trip to running essential equipment in a natural disaster.
"Being part of NRG empowers us to maximize the impact of our founding mission to put reliable power in the hands of every human on earth," said Workman, founder and CEO of Goal Zero. "Uniting Goal Zero with NRG builds on this common vision for the future."
The acquisition aligns with NRG's mission to lead the market in offering cleaner, smarter choices and sustainable lifestyle solutions to all energy consumers across all regions of the country.
"The acquisition of Goal Zero enables us to put power in people's hands and deepens our relationship with our customers as we enter an era of personal power. This is a time when consumers increasingly take control over how their power is generated and how much they use," said Elizabeth Killinger, President of NRG Retail. "With Goal Zero products, consumers are free, untethered and powered wherever they go."
About NRG Energy
NRG is leading customer-driven change in the U.S. energy industry by delivering cleaner and smarter energy choices, while building on the strength of the nation's largest and most diverse competitive power portfolio. A Fortune 250 company, we create value through reliable and efficient conventional generation while driving innovation in solar and renewable power, electric vehicle ecosystems, carbon capture technology and customer-centric energy solutions. Our retail electricity providers serve almost 3 million residential and commercial customers throughout the country. More information is available at www.nrg.com. Connect with NRG Energy on Facebook and follow us on Twitter @nrgenergy and @NRGMedia.
About Goal Zero
Goal Zero is the industry leader for renewable and reliable solar power. Born out of the desire to empower people everywhere, Goal Zero's products are designed to give you the freedom to go anywhere, regardless of battery life. From cell phones to refrigerators, and everything in between, Goal Zero products keep you connected and powered up in any situation. For more information, visit www.goalzero.com.
Featured Product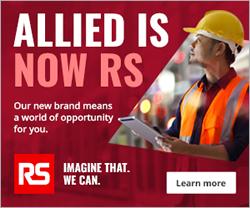 Moxa is a leader in edge connectivity, industrial computing, and network infrastructure solutions for enabling connectivity for the Industrial Internet of Things. With over 30 years of industry experience and 65 million devices connected worldwide, Moxa has a distribution and service network to serve customers in more than 80 countries. Now at RS-find over 1,000 products from Ethernet switches, protocol converters, routers, and more. RS Group is an authorized distributor of Moxa.