Speakers and attendees discuss the future of the utility business model and spotlight innovations in distributed generation, clean technologies and transportation
San Francisco, CA – September 17, 2014 – At the 7th Annual Renewable Energy Finance Forum-West (REFF-West), hosted by the American Council On Renewable Energy (ACORE) and Euromoney Energy Events (EEE), industry leaders from Silicon Valley and Wall Street gathered to highlight financing trends for renewable energy with a focus on one of the hottest regions for clean tech in the world – the Western U.S. More than 60 experts representing both the public and private sectors engaged over 300 delegates around the technology and financing advancements that are driving dramatic changes in the utility sector, transportation system, and how consumers will manage their energy usage.

"The renewable energy sector is an economic engine that is creating jobs, investment opportunities and fundamentally shifting the way we consume and manage energy," said Jennifer Granholm, Former Governor of Michigan and Senior Research Fellow at the Berkeley Energy and Climate Institute. "I've seen first-hand how pairing strong federal and state policies can help drive new technology and innovation in the clean energy sector, and we only need to look to the success here in the West to see the types of public-private partnerships that we need to embrace to ensure a bright future for the renewable energy industry."
To kick-off the event, ACORE released its Western Region Update to its Renewable Energy in the 50 State report, which provided an executive summary on the status of renewable energy implementation at the state-level. The report found that renewable energy is now responsible for over 20 percent of electricity generation in six western states, and the region saw the addition of nearly 4 GW of new renewable energy capacity in 2013 alone. With roughly 68 percent of the nation's solar PV capacity and 91 percent of the U.S. solar thermal electric capacity are located in the Western Region, the report also finds that the West continues to lead the way in solar development and deployment.
"The seventh annual REFF-West is proving to be our most dynamic West Coast gathering in recent years," said Michael Brower, President and CEO of ACORE. "From liquid renewable fuels to asset class clean energy investment, the West continues to lead the rest of the country. ACORE is especially proud to convene many of the thought leaders and market drivers for the American renewable energy sector."
Much of the discussion at this year's REFF-West centered on how new technologies are driving dramatic change in the utility and transportation sectors. This year's event offered various perspectives on how new utility models are being designed to provide alternatives to the standard approach to electricity services and featured a spirited debate between representatives from the utility industry and distributed generation sector. Investors and developers alike suggested that smart grid, microgrids, distributed generation and storage can redefine how we produce, transmit, distribute and use electricity.
"REFF-West offers an excellent platform for open dialogue among industry players. This year's event was a great example, as it allowed for a lively discussion with several key stakeholders on the distributed generation boom," said Bryan Miller, co-Founder of The Alliance for Solar Choice (TASC) and VP of Public Policy at Sunrun. "We are committed to finding the best pathway forward to continue the acceleration of distributed generation."
The event also took a close look at financing the future of clean energy transportation technologies, specifically exploring the impacts of the California Low Carbon Fuel Standard, the AB32 greenhouse gases cap in 2015 and the aggressive electric vehicle charging infrastructure goals in the West, which according to the DOE already has one-third of all the public EV charging stations in the U.S.
Finally, with continued uncertainty around the future of federal tax incentives such as the ITC and PTC, attendees agreed that private sector financing solutions such as Yieldcos, REITs, MLPs, PACE, securitization and green bonds will be key drivers for the industry. Speakers and participants also concluded that states in the West are continuing to advance market investment and deploy innovative mechanisms to spur private capital for clean energy – notably California's cap & trade mechanism and Hawaii's green energy market program.
"We were really happy with the high level of conversation and the brilliant insights from the speakers at this year's REFF-West," said Henry Hely Hutchinson, Managing Director, Euromoney Energy Events. "Governor Granholm's presentation at the start of Day One was truly inspiring and set the tone for the many excellent panel discussions over the course of the two-day conference, which underscored the significant advances taking place in renewable energy in the West and throughout the U.S."
About REFF-West:
REFF-West is the premier West Coast renewable energy finance event, uniting senior financiers, investors, and renewable energy executives from across the country since 2008. With a focus on renewable energy development in the Western U.S., REFF-West will highlight financing trends for renewable power, clean technologies, and transportation; assess the future of federal and state policy and the role of financing innovations; identify early-stage investment opportunities; and discuss the region's role in the international renewable energy marketplace. The conference also offers unparalleled networking opportunities, allowing you to meet senior representatives from both the energy and financial sectors.
About ACORE:
ACORE, a 501(c)(3) non-profit membership organization, is dedicated to building a secure and prosperous America with clean, renewable energy. ACORE seeks to advance renewable energy through finance, policy, technology, and market development and is concentrating its member focus in 2013 on National Defense & Security, Power Generation & Infrastructure, and Transportation. Additional information is available at www.acore.org.
About Euromoney Energy Events:
Euromoney Energy Events produces high-profile events for clean energy professionals worldwide. Our diverse range of conferences address topical issues in the cleantech sector, with a focus on financial and commercial aspects, in a portfolio that ranges across Renewable Energy, Waste Management, Energy Efficiency and Carbon Finance.
Featured Product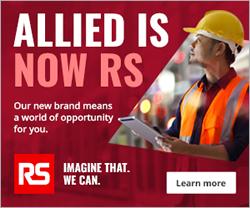 Moxa is a leader in edge connectivity, industrial computing, and network infrastructure solutions for enabling connectivity for the Industrial Internet of Things. With over 30 years of industry experience and 65 million devices connected worldwide, Moxa has a distribution and service network to serve customers in more than 80 countries. Now at Allied-find over 1,000 products from Ethernet switches, protocol converters, routers, and more. Allied Electronics & Automation, part of RS Group & Automation, part of RS Group is an authorized distributor of Moxa.