Fokko Pentinga, CEO, to Speak in Opening Session on Monday, September 22, 2014
TEMPE, Ariz., Sept. 21, 2014 -- Amtech Systems, Inc. (NASDAQ: ASYS), a global supplier of production and automation systems and related supplies for the manufacture of solar cells, semiconductors, and sapphire and silicon wafers, today announced that Amtech's solar subsidiary, Tempress Systems, will exhibit at the 29th European PV Solar Energy Conference and Exhibition (EU PVSEC 2014) September 23-25, 2014, in Amsterdam, The Netherlands, at the RAI Convention & Exhibition Centre (Hall 1, Booth E26).

Fokko Pentinga, President and Chief Executive Officer, will be a keynote speaker during the opening session on Monday, September 22, 2014. Mr. Pentinga is a member of the select Top Team Energy, The Netherlands. The Top Team Energy advises businesses, scientists and the government on measures to address challenges in the energy sector.
About Amtech Systems, Inc.
Amtech Systems, Inc. manufactures capital equipment, including silicon wafer handling automation, thermal processing and ion implant equipment and related consumables used in fabricating solar cells, LED and semiconductor devices. Semiconductors, or semiconductor chips, are fabricated on silicon wafer substrates, sliced from ingots, and are part of the circuitry, or electronic components, of many products including solar cells, computers, telecommunications devices, automotive products, consumer goods, and industrial automation and control systems. The Company's wafer handling, thermal processing and consumable products currently address the diffusion, oxidation, and deposition steps used in the fabrication of solar cells, LEDs, semiconductors, MEMS and the polishing of newly sliced silicon wafers.
Featured Product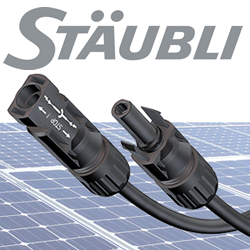 ​Stäubli Electrical Connectors are used on more than 300 GW, over 50% of the PV capacity worldwide. The MC4 family of UL and TUV listed products include connectors, in-line fuses, branch connectors, cable assembly and more.