Dutch Minister of Economic Affairs Henk Kamp opens EU PVSEC 2014---- In 2013 the Dutch solar industry sector generated a turnover of one billion euro---- Distribution and storage of solar energy becoming as important as production
Amsterdam, 22 September 2014 – Henk Kamp, the Minister of Economic Affairs of The Netherlands gave an introductory speech at the political opening session of EU PVSEC 2014: "The success of solar energy does not only depend on technological innovation it also requires social and economic adoptions. For this reason I welcome the broad scope of this year's conference which includes topics such as grid integration, system reliability and policies. Last year the Dutch solar industry sector generated a turnover of one billion euro, and today Dutch technologies power half of the world's solar panels thanks to our ability in technological cooperation i.e. between manufacturers and research, high-tech solutions and design. For instance, we are today demonstrating the integration of solar systems into buildings in zero emission urban areas".

Teun Bokhoven, Conference General Chairman said: "With today's geopolitical tensions and Europe's need to become more energy independent, PV can strongly contribute to a more sustainable energy future. EU has a leading position especially for high-end technologies and it is important for the European industry to use this position, as the distribution and storage of solar energy will become as important as producing it". He also remarked that building integrated PV applications are currently a very promising opportunity.
"The current geopolitical situation reinforces the importance of the three objectives of the EU energy policy: competitive affordable energy, security of supply and sustainability", said Marie Donnelly, Director in DG Energy, Directorate Renewables, Research and Innovation, Energy Efficiency EC Commission. Energy has moved right to the top of the EU political agenda and in this regard renewables are a key resource that we have. This is the reason why President Juncker wants Europe to be the world leader in renewable energy. "Many times when we have a discussion on renewables we only consider it for the production of electricity, but we should not neglect the role that renewables can play in heating and transport, which represent 47% and 30% of EU energy consumption respectively" she continued. PV is part of the transition that we are trying to achieve in the energy system, the most evident one being to push out consumers at the center of the energy market. "Up until now PV electricity was produced to be sold to the grid but in the next five years one of the most important targets to achieve is exploiting PV electricity directly in our homes" she concluded.
Fokko Pettinga, president of Amtech Systems gave an overview of the current status and needs of the PV sector from the point of view of a leading equipment manufacturer. By 2020 the market for PV will exceed one hundred gigawatts worldwide and as the market becomes global the changes in national legislation and support measures will become less important. He emphasized how important technological cooperation between industries and research is for the PV sector, especially in this particular moment. In the last three years with the prices of solar modules falling, the industry has mainly targeted cost reductions. Today we are already witnessing a slight increase in the price of cells, so at this stage the PV industry must work again to improve cells efficiency in order to secure grid parity. In this regard he said the PV industry should target a goal of 0.5% increase in efficiency and 0.5 cents/KWh cost reduction every year.
The following panel discussion, moderated by Melinda Crane, chief political correspondent Deutsche Welle, provided the audience with an outlook on the expectations for the near future of the PV industry and the role of policy and research in this.
Paolo Frankl, International Energy Agency, highlighted that by 2020 China will be the world's top market and and Europe will be the second, but the level of the EU market will depend on the predictability and credibility of its policy framework. However as the PV market becomes global, the industry will have to learn to deliver more and more services together with technologies, and it will have to be able to do this in different countries and conditions.
Giovanni De Santi, Director of the Institute for Energy and Transport JRC, European Commission, remarked that we are at a very important tipping point, as the cost of production of the electricity from PV is now equal or less than the retail price almost everywhere. This gives the PV industry an opportunity to broaden the scope of its research and production activities on aspects such as energy storage, smart grid and building integration.
Dr. Stefan Glunz, Fraunhofer Institute for Solar Energy Systems, was awarded with the European Becquerel Prize for Outstanding Merits in Photovoltaics, for his pioneering work in high-efficiency silicon solar cells. This prize was established by the European Commission in 1989 to mark the 150th anniversary of Alexandre-Edmond Becquerel's discovery of the photovoltaic effect in 1839, which laid the foundation of both, photovoltaics and photography.
Background EU PVSEC
The EU PVSEC 2014 opens its doors from Monday, 22 to Friday, 26 September 2014 at RAI Convention and Exhibition Centre in Amsterdam, the Netherlands. The five-day Conference is complemented by the three-day Exhibition, held from Tuesday, 23 to Thursday, 25 September 2014.
1.500 contributions from 71 countries are presented in 87 conference sessions and cover the entire PV value chain. The Conference Programme is complemented with 8 Parallel Events that present around 100 additional contributions. They are jointly organized with major international organisations and offer a deep insight into specific topics along the most recent technology, market and business trends. The EU PVSEC Industry Exhibition provides first hand opportunities to meet with the global innovators.
The EU PVSEC is supported by European and international organisations such as the European Commission, UNESCO – United Nations Educational, Scientific and Cultural Organization, Natural Sciences Sector, WCRE – World Council for Renewable Energy, EPIA – European Photovoltaic Industry Association, IPVEA – International Photovoltaic Equipment Association, ESA – European Space Agency, EREF – European Renewable Energies Federation, EUFORES – European Forum for Renewable Energy Sources, EU PV TP – European Photovoltaic Technology Platform, ARE – Alliance for Rural Electrification, AIE – European Association of Electrical Contractor, CABA – Continental Automated Buildings Association, EPIC – European Photonics Industry Consortium, SASIA – Saudi Arabia Solar Industries Association.
The Conference Programme is coordinated by the European Commission, DG Joint Research Centre.
Featured Product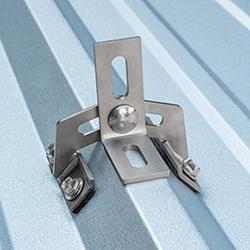 Explore new lines of income for your solar installation business with QuickBOLT's Stone Coated Steel roof mounts designed in partnership with metal roof manufacturers themselves. These SCS roof mounts work on all metal tile profiles and will help you bring in money you're missing out on. By not driving into the roofing material, QuickBOLT's Stone Coated Steel roof hooks maintain the integrity of the roof. Install with ease and confidence knowing your roof is protected against the harsh elements that these hooks are designed for.