Until now, PV demand growth has been driven by South Africa and Israel; however, more ME countries are beginning to enter the solar PV market.
Santa Clara, Calif., September 22, 2014—The photovoltaic (PV) market in the Middle East and Africa (MEA) region is set for strong growth, with many multi-megawatt ground mount projects in the planning or pre-planning phases. According to the NPD Solarbuzz Middle East and Africa Deal Tracker - Solar Project Database, which covers completed and in-progress solar projects in 29 African countries and seven Middle Eastern countries, PV projects in Africa have a total potential capacity of more than 11 gigawatts (GW) and projects in the Middle East amount to a total potential capacity of at least 1.3 GW.

"Until now, PV market growth in the MEA region has been mainly driven by a small number of economically prosperous countries, in particular South Africa and Israel," said Susanne von Aichberger, analyst at NPD Solarbuzz. "These two countries, and Saudi Arabia, are expected to offer stable demand levels within the MEA region over the next few years. The capacity share of the remaining MEA region is projected to increase; however, the increase depends on relatively few, but very large, projects."
More than 99 percent of the potential PV capacity listed in the Middle East and Africa Deal Tracker is from ground-mounted projects, and average sizes of these projects in Africa tend to be larger than in most established PV markets. According to von Aichberger, "Economy of scale tends to raise the attractiveness of large projects, but the large size of ground-mount solar parks also increases risk, particularly in countries with previously little or no existing PV markets."
While the pipeline is extensive, and spread all over the continent, most of Africa's existing PV capacity is located in South Africa. Completed South African projects comprise nearly 700 MW in the Middle East and Africa Deal Tracker, while identified installations in the rest of Africa amount to one tenth of this capacity. Just 7 percent of identified African project capacity has been completed, according to the report.
Projects of 50 MW or above were recently announced in Algeria, Cameroon, Egypt, Ethiopia, Ghana, Kenya, Morocco, Nigeria, Senegal, South Africa, Swaziland, Tunisia, Uganda, Zambia and Zimbabwe, with the largest pipelines in Kenya and Zimbabwe. Outside of South Africa, multi-megawatt projects have been completed in Benin, Cap Verde, Mauritania, Senegal and Uganda.
"The fundamental market driver in Africa remains the basic need for energy, especially in sub-Saharan Africa. However, demand is also being driven by project developers that are seeking new overseas markets to compensate for the downturn in PV projects across mainland Europe." von Aichberger noted. "Growth constraints for PV across Africa include weak energy infrastructure, corruption, and political and social instability."
In the Middle East, more than 95 percent of the total PV capacity listed in the Middle East and Africa Deal Tracker is ground-mounted, with the strongest roof-mounted PV demand coming from Israel. Israel is currently the largest PV market in the Middle East, with about 260 MW of completed projects, and over 300 MW of projects in the pipeline; however, large PV projects are expected to emerge in Saudi Arabia, as soon as the country's renewable energy tender program begins.
Figure: Completed and Pipeline PV Project Completion Rates Across the Middle East and Africa
The third Middle East country market with strong growth expectations is Jordan, with nearly 600 MW of planned capacity listed in the Middle East and Africa Deal Tracker. "Driving growth in the Middle East solar market is the desire to reduce the consumption of fossil fuels; however, the market is threatened by bureaucracy and potentially by political instability," von Aichberger said. Compared to the African PV market, the project realization rate in the Middle East has been higher. Of all capacity in the Middle East listed in the Deal Tracker, 22 percent are completed installations.
A first in the industry, the Middle East and Africa Deal Tracker offers comprehensive database coverage of downstream PV project activity in the Middle East and Africa. This monthly report provides a detailed listing of currently more than 350 PV projects (10 kW and larger), both completed and planned. For more information about this report, contact us at one of our seven global locations, email us at contact@solarbuzz.com, or contact Charles Camaroto at 888-436-7673 or 516-625-2452.
About NPD Solarbuzz
NPD Solarbuzz, part of The NPD Group, offers Marketbuzz, Solarbuzz Quarterly, and annual downstream photovoltaic (PV) market reports, providing the solar energy and PV industries with global historical and forecast data for the PV supply chain. For more information, visit www.solarbuzz.com or follow us on Twitter at @Solarbuzz.
About The NPD Group, Inc.
The NPD Group provides global information and advisory services to drive better business decisions. By combining unique data assets with unmatched industry expertise, we help our clients track their markets, understand consumers, and drive profitable growth. Practice areas include automotive, beauty, consumer electronics, entertainment, fashion, food/foodservice, home, luxury, mobile, office supplies, sports, technology, toys, and video games. For more information, visit npd.com and npdgroupblog.com. Follow us on Twitter at @npdtech and @npdgroup.
Featured Product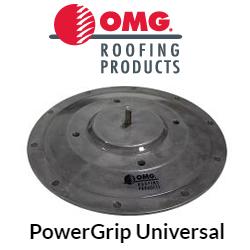 Eliminate Solar Rack Ballast and Reduce Rooftop Material Handling. PowerGrip™ Universal (PGU) is a commercial roof mount system designed to secure solar racks and other equipment to any type of commercial roofing system. PGU provides a secure connection directly to the roof deck or structural members and is designed to reduce or eliminate ballast in solar racking systems, so there's less weight on the roof and less material handling. Made of heavy-duty cast aluminum, PGU units include a base ring which is secured through the roofing cover and into the structural roof deck, and a waterproof top plate.