RET Capital hires RadianGEN to operate 44MWs of projects
Radian Generation Engages with Renewable Energy Trust to Provide Comprehensive Solar Asset Management

RET Capital hires RadianGEN to operate 44MWs of projects
San Francisco, CA – SEPT. 23, 2014 – Radian Generation, LLC, (RadianGEN) a provider of ongoing solar asset management (solarAM) and consulting services, announced today that it has entered into an asset management agreement with Renewable Energy Trust Capital (RET Capital) for 44 megawatts of solar projects in California. RadianGEN will provide financial asset management, contract administration, compliance and technical oversight service for the two utility scale projects owned by RET Capital. RadianGEN is a member of QuietStream Financial's portfolio of asset management service providers that work together in the commercial real estate, renewable energy, and affordable housing investment sectors.
Given the contractual obligations demanded by utilities, RET Capital has brought RadianGEN on board for its approach and experience in managing solar projects effectively and efficiently. RadianGEN provides the comprehensive management necessary to ensure that RET Capital's solar projects will perform and deliver the expected return on investment.
"RadianGEN and its leadership team have a solid track record of providing comprehensive solutions for asset management and we look forward to working with the team on these solar generation sites," said John Bohn, CEO of RET Capital. "Their experience and approach will ensure the efficiency and effectiveness of our portfolio management."
RET Capital is a privately held company that makes sponsor equity investments in solar PV power generation facilities. RET Capital works closely with its asset partners – project developers, EPC providers, IPPs and utilities – to acquire projects with long-term contracted cash flows. The RET Capital team assists its asset partners in meeting their objectives through innovative structuring and design of portfolio acquisition and joint ownership opportunities.
"RET Capital is building a leading and competitive investment platform for the renewable energy industry," said Chad Sachs, CEO of RadianGEN. "We have been impressed by their ability to source, diligence, and execute on project opportunities in the sector. We are excited to support RET Capital's growth in the utility scale solar sector."
About Radian Generation
Radian Generation is an independent solar asset management and advisory firm. RadianGEN offers comprehensive asset management services to operating projects including financial asset management, contract administration and compliance, and technical oversight. RadianGen's customers include utilities, private infrastructure funds, solar developers, hedge funds and publicly traded investment vehicles that are looking for more predictability and improved operating performance of their assets. RadianGEN currently provides asset management services for over 85MWs of operating projects. To learn more about RadianGEN, visit http://www.radiangeneration.com
About RET Capital
RET Capital is an independent finance platform established to lower the cost of capital for qualified developers and other industry stakeholders by providing reliable takeout financing Focusing on the middle market and working toward standardization, RET Capital will help facilitate accelerated growth in the North American renewable marketplace. RET Capital works closely with selected Asset Partners to establish long-term relationships with developers, EPC firms and utilities to provide growth velocity, predictability and improved margins. RET Capital will work with its Asset Partners to tailor a suitable acquisition strategy and provide predictable "take-out" financing for development liquidity. The RET Capital team endeavors to meet our Asset Partners' objectives through innovative ways to structure and design portfolio acquisition and joint ownership opportunities.
About QuietStream Financial QuietStream Financial provides acute detail and expertise in alternative asset management services and structured finance products for real estate borrowers, financial institutions and investors. Our goal is to build a portfolio of companies comprised of industry leaders that work seamlessly together to deliver excellence in the commercial real estate, renewable energy, and finance spaces. To learn more about QuietStream Financial, please visit our website: http://quietstreamfinancial.com/
For more information, contact:
SusanDV@aol.com
Featured Product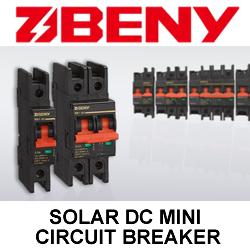 The BB1-63 modular miniature circuit-breakers can be used in solar DC circuits up to 1200 VDC (4-poles execution). Application in solar DC circuits, battery energy storage systems and UPS. Arc flash barrier design keeps solar equipment more safe and reliable. For DC circuit over-current protection.