It is time to get ready for winter! Protect your food when the storms knock out the power by installing a DC refrigerator or freezer. Give yourself and your family peace of mind.
DC fridges will protect your food in power outages. In a power failure, the food in your home becomes your most important and valuable asset. Protecting the food you've sourced will be the best decision you could make for your family.
One of the most common complaints we hear from customers after winter power outages is how much food they had to throw away.
Having access to your safe food stocks can make a huge difference to your well-being during an emergency. Having a DC battery powered fridge or freezer is an easy way to keep your food if you lose power. We can custom design any system to help with your back up food system needs. All of the 12/24V refrigerators and chest freezers in our catalog offer energy savings and security. Our off-grid friends have known and appreciated the value of a good DC fridge for many years. Being DC direct, and without the need for an inverter, the units we carry are incredibly efficient.
There are several options to choose from, you can go completely battery-less and power the fridge directly from a solar panel. Or, the more common and long term solutions are full battery powered units that will work day or night, and give you the added security of having power when you have minimal sunshine (because honestly, when the power goes out it's usually stormy). The batteries can be kept charged via solar, or in simplified systems, by using a generator or AC battery charger (when the grid is active). One consideration, with battery based systems that are used infrequently, is to continue to check your battery charge monthly, even if unused. One of the most common mistakes in back-up systems is waiting until the emergency to check the batteries.
We carry Sundanzer fridges and freezers (both as battery based and solar direct) as we have for many years. They have thick insulation and thus are optimized for solar by being very low energy users. Their cabinets are commercially manufactured by Electrolux of Sweden. All of their larger models are chest type and can be easily hardwired to a battery bank with a 15A inline fuse, or a DC plug can be added. Both options remain code compliant as long as the entire house is wired for 120V only. Sundanzer also makes a small 4.7 cubic foot upright Fridge/Freezer combo.
Another of our long standing brands is NovaKool. Having served the mobile RV market for years, they feature 26 different DC models in various upright configurations. They are made to be built into an existing cabinet in which you add the insulation. This is a "best buy" solar powered model that we have featured in our catalog for over 20 years. The run time on all models is severely reduced by using new dual voltage Danfoss compressors and a new refrigerant. Small 2 door models will consume up to 60 watts dependent on the ambient temperature. Because you add the insulation, run time can be potentially cut in half by gluing foam board insulation on all sides and carpet to the door. The units are interchangeable at 12 or 24V.
Another brand that is very common for everyday use in an off-grid home is the SunFrost line. Built to order in Northern California, SunFrost is a name that is synonymous with superior DC refrigerators and freezers. Fully customizable to fit any décor, these units are built to last. They consume a mere 12 – 70 watts of power. With their innovative radiator design these units can fit right up against the wall. A super thick insulation (3") surrounds the units, keeping their run time to an efficient minimum. They are roughly 20% more energy efficient than similarly sized, conventional Energy Star models.
Having peace-of-mind in an emergency is ideally what we all would like to have. One way to be closer to that goal is by safe-guarding your food supply. Back it up with a DC system!
Featured Product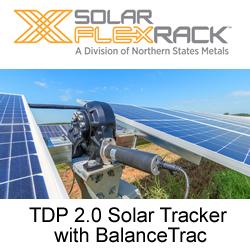 Solar FlexRack's latest solar tracker technology bundles an advanced tracker design with a full team of seasoned engineering and installation experts at your service. The next-generation solar tracker delivers a package of features that both enable increased energy yields for commercial and utility-scale solar installations, and significantly reduce project risks. That translates to smart installation cost-savings across your project budget.