Extends Warranty Term to 20 Years on Solar Mounts
WALNUT CREEK, CA, September 23, 2014 – Quick Mount PV announced today that it is has doubled warranty coverage for its line of solar roof mounts to 20 years. Effective September 1, 2014, all solar mounts featuring the company's patented technologies—QBlock®, QBase® and QHook®—will be covered with a 20-year limited product warranty.

"We make the highest quality solar roof mounts in the industry," said Quick Mount PV CEO Claudia Wentworth. "Our top-notch engineering, ISO 9001:2008 certified manufacturing, and years of field experience means we can stand behind our products for decades."
Until this change, only the company's flagship product, the Classic Comp Mount, had a 20-year limited product warranty. Quick Mount PV has now extended the warranty to mounting products for all roof types, including E-Mount, QBase Comp, Quick Hook, QBase Universal Tile, QBase Low Slope and more.
Visit quickmountpv.com for more information.
Featured Product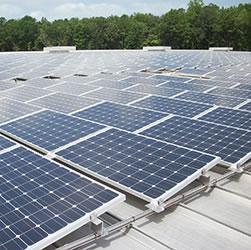 The Power Rail™ Commercial Mounting System is designed with the professional PV solar installer in mind. Both the XD/UD and LD/MD rails feature single tool assembly with the revolutionary patented RAD™ Lock-in-Place bolt for fast and secure module clamping. The high strength marine-grade aluminum rails include an integral wiring channel for securing cables and providing a professional finish.