The 831-kW solar plant is the first to be built in South California Edison's territory
A new solar project in Silver Lakes, a planned community of more than 3,000 residences in San Bernardino County, Calif., will be the first to take advantage of Southern California Edison's new NEMA program. A revolutionary step forward for distributed solar generation, this program allows a utility customer, such as Silver Lakes' homeowners association, to use electricity from a solar facility on its property to offset electricity usage from multiple meters located on contiguous properties owned or leased by the customer.

Clean power generated by the 831-kW PV system will offset electricity consumed by Silver Lakes' community amenities, such as pools, clubhouses, restaurants and sports facilities. Construction will commence in October, with completion expected by the end of the year.
The project was developed by SK Solar, who gave shape to the unique net metering opportunity, pulling together various partners to create a viable solution for engineering, permitting, financing and ultimately, construction. As one important piece of the puzzle, Silver Lakes has entered a 20-year Power Purchase Agreement (PPA) with Pacific Power Renewables, which will allow the homeowners association to see savings in the first year of solar production. Throughout the life of the PPA, Silver Lakes will experience total estimated savings of over $3 million thanks to this innovative net metering program and PPA set-up.
"Pacific Power Renewables is proud to be part of this unique project, pioneering a new aggregate metering tariff with SCE," stated Dan Powell, CEO of Pacific Power Renewables. "PPR is providing the construction finance, long term ownership and management of this high tech solar array and we're looking forward to a long term PPA partnership with the great community of Silver Lakes."
"The Silver Lakes Association is excited to partner with SK Solar, and our investment partner Pacific Power Renewables, to insure energy reliability and affordability into the future," stated Greg Heldreth, President of Silver Lakes Association (SLA). "Following the solar project installation and interconnection, the reduction in current and projected future electricity bills are estimated conservatively to be $1.5M to $3.5M over 20 years. These savings represent an important opportunity for SLA to control future assessment increases by offsetting increasing electrical energy costs with clean, quiet, and efficient solar energy."
Leading solar development company SK Solar will also build the project, which will feature 315-watt Sunmodule XL 72-cell solar panels from SolarWorld mounted on DuraTrack HZ single-axis trackers, customized with a 60° range of motion, from Array Technologies, Inc. (ATI).
Boris von Bormann, CEO of SK Solar, Inc., said, "We at SK Solar are excited to stand behind this great project for the community of Silver Lakes. We are thrilled in bringing all the pieces together to make this project a success, starting with Silver Lakes Association as the client who will be benefiting of the solar installation's yearly energy output to cover almost 80% of their energy usage, involving Pacific Power Renewables as the financing arm of the project and ultimately getting quality partners involved such as SolarWorld and Array Technologies to ensure reliable and excellent equipment. This project has proven to be a great step for everyone involved. We are thrilled to serve the community of Silver Lakes and proud to be bringing them closer to producing clean energy for the next generation to come."
Silver Lakes Solar Project will become a highly visible symbol of California's commitment to an economy propelled by competitive, reliable, and clean energy resources. The power plant will serve as an instrument for learning how to integrate solar energy into a complex power system via net aggregate metering.
"This revolutionary aggregate net metering program will allow cutting-edge companies and associations, such as Silver Lakes Association, to take advantage of electricity cost savings provided by solar energy at a long-term levelized cost of electricity," indicated Ron Corio, CEO and Founder of ATI. "Array Technologies is pleased to be a part of this project and contributing the solar trackers that will provide smooth and continuous production throughout the day, including high-energy demand hours."
The solar arrays at the Silver Lakes site are capable of generating over 1.8 million kilowatt-hours per year, more than enough to power over 300 homes and to offset 2,887,121 lbs of CO2 annually for the next 20 years. The system is scheduled to be interconnected by the end of the year.
About Silver Lakes Association:
Silver Lakes Association is nestled in the quiet oasis of the Mojave River Valley, located in Southern California. A master planned community comprised of 3,459 residential properties with 2,726 lots currently built, the community offers a 27-hole championship golf course, two shimmering lakes, sandy beaches, shady parks, an equestrian center, tennis courts, fine dining, fitness facilities and miles of scenic landscape.
Silver Lakes gives families, youth, and seniors alike, quality, affordability, recreation and security in an upscale setting. Residents enjoy a hassle-free high desert resort lifestyle with clean air and picturesque vistas. Everyday comforts such as restaurants, an elementary school, middle school, high school, shopping, gasoline, and hair salons are within walking distance. A year-round playground for all who enter, this resort atmosphere presents the ideal escape from metropolitan costs, congestion, and crime.
About SK Solar:
Founded in 2003, SK Solar has designed and installed over 100MW of solar systems internationally. Building on the company's experience in wind and hydro power, SK Solar has been helping customers be more successful by offering technologies that improve solar production and systems that deliver long-term financial benefits. SK Solar provides home owners in the residential market as well as business owners in the commercial segment viable options to save money on their electric bills as well as define the right energy strategy for the long-term. For more information visit www.sksolar-usa.com and connect with us on Facebook.
About Pacific Power Renewables, INC.:
Pacific Power Renewables, INC (PPR), of Auburn, CA is a leading solar project developer and PPA provider for large energy users. We develop, build, finance, and operate solar power systems. Since 2002, Pacific Power Renewables has installed over 100 plants that combine to produce more than 20 megawatts of clean, efficient solar energy. www.pacpower.biz
SolarWorld REAL VALUE:
SolarWorld manufactures and sells solar power solutions and in doing so contributes to a cleaner energy supply worldwide. As the largest solar producer in the United States and Europe, SolarWorld employs about 3,200 people and carries out production in Hillsboro, Ore., and Freiberg and Arnstadt, Germany. From the raw material silicon to solar wafers, cells and panels, SolarWorld manages all stages of production ‒ including its own research and development. The company maintains high social standards at all locations across the globe and is committed to resource- and energy-efficient production. Headquartered in Bonn, Germany, SolarWorld was founded in 1998 and has been publicly traded on the stock market since 1999. For more information, visit www.solarworld-usa.com.
About Array Technologies:
Array Technologies is the worldwide market leader in tracking solutions for utility, commercial and residential solar electric systems, with more than 2 gigawatts shipped and installed across the globe. Array's innovation and leadership in ground mount fixed-rack and solar tracker design has established the industry standard for cost-effective, robust, reliable and easy to install PV solutions with over two decades of field experience. Headquartered in Albuquerque, NM, Array Technologies' ground mount solutions are engineered and manufactured in the USA. For more information about Array Technologies, Inc., please visit arraytechinc.com, connect with us on LinkedIn, follow us on G+ and subscribe to our YouTube channel.
Featured Product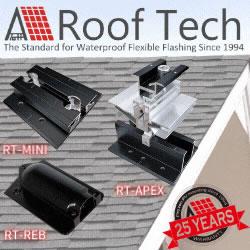 Now Roof Tech brings you the most innovative, watertight mounting systems ever developed for solar photovoltaic systems. Designed and manufactured exclusively for us by Japan's longtime leader in roofing technologies, Roof Tech products are 100% code-compliant and offer fast, simple installation and huge savings on shipping costs due to their compact, rail-less design. Learn more about our full line of versatile PV mounting solutions now available for residential installations. The next generation in rooftop solar mounting solutions."