WINAICO modules survived 250 hours of the toughest PID test with 85°C temperature, 85% relative humidity, and -1000V bias voltage with minimal degradation
Hsinchu, Taiwan, 24.09.2014 - WINAICO, a globally leading PV module brand by the semiconductor company, Win Win Precision Technology Co., Ltd., proudly announced that their modules have passed the harshest PID test offered by T‹V Rheinland with minimal degradation. The 85°C temperature, 85% relative humidity, and -1000V bias voltage made it the most challenging reliability test in the world, not to mention the survival criteria of 250 hours pushed the boundaries of module craftsmanship. WINAICO's modules were able to survive T‹V Rheinland's test with significantly less power degradation than the required threshold of 5%.

Standard PID tests apply only a -1000V bias voltage at 25°C for a period of 168 hours. The more advanced test applies a more stringent condition of 85°C temperature, 85% relative humidity for a period of 96 hours. WINAICO modules withstood the tougher conditions for 250 hours with ease, showing the outstanding selection of materials and quality of WINAICO products.
"PID issues have plagued commercial and utility scale installations for years, as poorly manufactured modules would slowly degrade when installed in long module strings. Low degradation, durability and high yields are of utmost relevance to investors, banks and consumers under the most demanding climate conditions", said Sascha Rossmann, Vice President of Global Sales at WINAICO. "WINAICO proves once again that we are not about fulfilling but rather setting new industry standards. By surviving the toughest PID tests, WINAICO's modules will remain productive in all types of applications, and continue to exceed customers' expectations."
Featured Product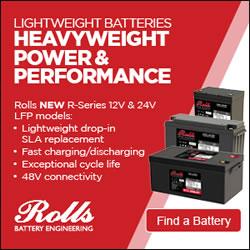 Designed for true drop-in replacement, Rolls new R-Series 12V & 24V LFP lithium models offer a maintenance-free lightweight flooded and SLA alternative in four popular BCI case sizes with fast charge/discharge capability. Rolls custom built-in BMS provides all necessary operating protections for safe operation and seamless integration for deep cycle replacement in 12V, 24V or 48V systems.