WINAICO modules survived 250 hours of the toughest PID test with 85°C temperature, 85% relative humidity, and -1000V bias voltage with minimal degradation
Hsinchu, Taiwan, 24.09.2014 - WINAICO, a globally leading PV module brand by the semiconductor company, Win Win Precision Technology Co., Ltd., proudly announced that their modules have passed the harshest PID test offered by TÜV Rheinland with minimal degradation. The 85°C temperature, 85% relative humidity, and -1000V bias voltage made it the most challenging reliability test in the world, not to mention the survival criteria of 250 hours pushed the boundaries of module craftsmanship. WINAICO's modules were able to survive TÜV Rheinland's test with significantly less power degradation than the required threshold of 5%.

Standard PID tests apply only a -1000V bias voltage at 25°C for a period of 168 hours. The more advanced test applies a more stringent condition of 85°C temperature, 85% relative humidity for a period of 96 hours. WINAICO modules withstood the tougher conditions for 250 hours with ease, showing the outstanding selection of materials and quality of WINAICO products.
"PID issues have plagued commercial and utility scale installations for years, as poorly manufactured modules would slowly degrade when installed in long module strings. Low degradation, durability and high yields are of utmost relevance to investors, banks and consumers under the most demanding climate conditions", said Sascha Rossmann, Vice President of Global Sales at WINAICO. "WINAICO proves once again that we are not about fulfilling but rather setting new industry standards. By surviving the toughest PID tests, WINAICO's modules will remain productive in all types of applications, and continue to exceed customers' expectations."
Featured Product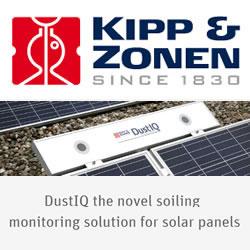 Soiling of the panel glass is one of the major problems in the rapidly expanding solar energy market, with the attendant loss of efficiency and reduction in performance ratios. Now, there's a new, simple and very cost-effective alternative. Based on Kipp & Zonen's unique Optical Soiling Measurement (OSM) technology, DustIQ can be easily added to new or existing solar arrays and integrated into plant management systems. The unit is mounted to the frame of a PV panel and does not need sunlight to operate. It continuously measures the transmission loss through glass caused by soiling, so that the reduction in light reaching the solar cells can be calculated.