Fills Orders for Additional 552 MW
Sept 24, 2014 - ACCIONA Windpower (AWP), a subsidiary of the ACCIONA group that designs, manufactures and commercializes wind turbines, has completed the installation of the world's first AW125/3000 wind turbine, which combines a 125 meter rotor with a 3 megawatt wind turbine generator.

The turbine is mounted on a 120 meter concrete tower at ACCIONA's Vedadillo Experimental Wind Farm located in the Navarra Region of Spain. The company has fulfilled orders for an additional 552 MW of AW125/3000 turbines which will be installed at wind farms around the globe in the coming months.
Launched in 2013, the AW125/3000 is an extension of ACCIONA Windpower's successful AW116/3000 wind turbine, which currently has confirmed orders for more than 1,000 MW. The 125 meter rotor is among the largest rotors in operation at any onshore wind farm, capturing the wind energy from a swept area of over 12,300 square meters to deliver maximum production at a lower cost of energy. The AW125 is suitable for a wide range of wind conditions and is certified for IEC Class IIb, IIIa, and IIIb.
"The 125 meter rotor is one of the technological advances made by ACCIONA Windpower as part of our commitment to lower the cost of energy for our customers," said Jose Luis Blanco, CEO of ACCIONA Windpower. "Design innovation is helping ACCIONA Windpower emerge as a preferred supplier by many major customers and fueling the rapid growth in orders for the AW3000 platform."
The AW 125/3000 turbine at the Vedadillo Wind Farm will help ACCIONA Windpower complete the requisite testing for Type Certification, which is expected to be complete by Q1 2015. The AW125 is available on 100 and 120 meter concrete towers and an 87.5 meter steel tower.
To date, ACCIONA Windpower has received firm orders to supply over 1,800 MW of AW3000 wind turbines to wind farms in the USA, Canada, Brazil, Chile, Mexico, Spain, Poland, Turkey and South Africa.
About us
ACCIONA Windpower designs and manufactures wind turbines with a capacity of 1.5 and 3 MW. It has turbine assembly plants − two in Spain, one in the USA, and a fourth that will enter service in Brazil towards the end of 2014. It also has a turbine blade manufacturing facility. It has supplied – or has contracts for - wind turbines totaling almost 6 GW in more than 100 wind farms in 18 countries. It is a subsidiary of ACCIONA Energía, a world leader in renewables with over 20 years' experience in the sector and 10,000 MW installed, either for the company or its customers.
Both companies belong to the ACCIONA Group, one of the leading Spanish corporations operating in infrastructures, energy, water and services in over 30 countries. Its corporate motto "Pioneers in development and sustainability" reflects its commitment — in all its activities — to contribute to economic growth, social welfare and the protection of the environment. This effort is recognized through its listing on the Dow Jones (DJSI) and FTSE4Good sustainability indexes. ACCIONA is quoted on the Ibex-35 stock index, has a workforce of around 34,000 worldwide and earned revenues of 6,607 million euros in 2013. www.acciona.com
Featured Product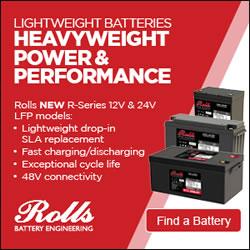 Designed for true drop-in replacement, Rolls new R-Series 12V & 24V LFP lithium models offer a maintenance-free lightweight flooded and SLA alternative in four popular BCI case sizes with fast charge/discharge capability. Rolls custom built-in BMS provides all necessary operating protections for safe operation and seamless integration for deep cycle replacement in 12V, 24V or 48V systems.