Both companies provide resources for United Solar Initiative to carry our projects in Africa and Central America
CHAPEL HILL, N.C., Sept. 24, 2014 -- Schletter, a leading producer of solar mounting systems, metal fabrication production, and a supplier of engineering services, has donated $100,000 USD to United Solar Initiative Inc. (USI), a Chapel Hill based non-profit propagating solar energy among disadvantaged communities. Strata Solar, one of the nation's leading turnkey solar providers, committed to a matching donation.

USI has focused on the development of single-installation projects in Central America and has forecasted several microgrid installations in Kenya. To date, USI has carried out two rooftop projects in Nicaragua in May of 2014. The size of each installation equals 240W and provides clean and safe energy to a local school and community center. Both installations were built in San Ramon, Matagalpa by volunteers and a local solar company over the course of three days. Materials were purchased thanks to a donation from Strata Solar. One of USI objectives is the uniting a global solar industry and educating developing communities on solar energy.
"We turned to Schletter asking for support because they are a well-known industry pioneer of solar technology. Not only do they provide state-of-the-art products but also pursue common goals as USI does," says Alex Wilhelm, President of USI. "All of us at United Solar Initiative are so grateful for Schletter's immense support and look forward to not only providing electricity to rural areas in Nicaragua and Kenya, but allowing for adult education into the night," he adds.
Schletter GmbH donated $50,000 in monetary funds while Schletter Inc. will allow USI to use an additional $50,000 worth of products and services to support the non-profit's growth and advance the solar energy industry in developing countries. Thanks to the donation, USI will be able to use solar mounting systems, engineering, design, geotechnological, and logistic services.
"On behalf of Schletter Inc. and Schletter GmbH, we are pleased to be a part of United Solar Initiative's noble and necessary efforts to support and develop clean energy through solar power generation systems in communities throughout Kenya and Nicaragua," said Mr. Dennis Brice, President and CEO of Schletter Inc. Mr. Brice went on to say that, "We look forward to seeing these projects develop and benefit communities who may otherwise not have access to energy."
Additionally, Strata Solar has been supporting USI by allowing them to use their offices in Chapel Hill. Because of the long-term relationship between Strata and Schletter, Strata made an additional contribution to USI by matching the donation made by the Schletter Group. "A couple of our employees have been actively involved with USI, donating their time, knowledge, and experience. We are happy to show support for their efforts to provide energy to those who would not be able to access it otherwise," commented Blair Schooff, VP Marketing and Sales at Strata Solar.
USI estimates each completed solar PV project will bring quality of life benefits to the local community by improving access to clean water for rural communities, allowing cell phone charging in areas with no land-line access, creating the opportunity of night classes, allow for the introduction of technologies and energy education.
About United Solar Initiative Inc.
USI is a non-profit organization focused on providing access to clean and safe solar energy to disadvantaged communities. Its main mission is empowering the communities worldwide through solar energy solutions, while collectively working to strengthen a growing industry. Providing education and leadership by working with solar industry leaders and environmentally conscious companies is one of its main objectives. It is entirely volunteer and donation based. To find out more and support our efforts please visit www.unitedsolarinitiative.org
About Schletter GmbH and Schletter Inc.
The Schletter Group, including Schletter GmbH and Schletter Inc., has designed, developed, and fabricated metal products for a variety of industries for more than 40 years, while reaching global leadership in its line of solar mounting systems for over 20 years. Originating in Germany, Schletter GmbH has established several independent subsidiaries and has offices in 13 countries. During its time in the solar market, the Schletter Group has installed 15 GW of installed solar capacity throughout the globe including products for residential, commercial, and utility-scale applications. For more information please visit www.schletter.us or www.schletter.de
About Strata Solar, LLC:
Strata Solar is a national leader of utility scale solar energy systems and installations. Strata's unique, low impact, standardized approach to solar farm creation is supported through its vertical divisions which offer complete turnkey services for the design, construction and installation of utility and commercial photovoltaic systems. Strata also offers a full array of development, engineering, procurement, construction, operation and maintenance services to companies interested in clean renewable energy. Headquartered in Chapel Hill with an expansive O&M facility nearby. For more information please visit www.StrataSolar.com
Featured Product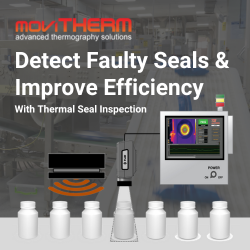 MoviTHERM's Thermal Seal Inspection (TSI) solution provides precise and reliable detection of defects in a variety of packaging types, including pouches, bags, blister packs, bottle caps, and more. By detecting defects in your packages, the TSI solution helps increase efficiency in your production line and ensures top-quality packaging is delivered to your customers every time. With state-of-the-art technology and an experienced team, MoviTHERM is dedicated to delivering accurate inspection solutions and peace of mind to its clients. Contact MoviTHERM today to learn more about their thermal seal inspection solution.