Investment in Clean Energy Sector Yields Job Growth and Economic Gains
Montpelier, VT – The Massachusetts Clean Energy Center today released its annual industry report detailing the impressive growth of the state's clean energy industry and the impact it is having on jobs and economic activity across Massachusetts. The Clean Energy States Alliance, a national, nonprofit coalition of state and municipal clean energy funds, praises the report as an essential tool for quantifying and understanding the results of state policies to advance markets for clean energy technologies.

"With this report, Massachusetts demonstrates its leadership on both energy efficiency and renewable energy," stated Clean Energy States Alliance Executive Director Warren Leon. "The report offers solid evidence that clean energy technologies and deployment offer multiple benefits, and that state policy can be a key driver for the rapid growth of the clean energy industry. Massachusetts' growth rate of 47 percent in this sector over the past four years, and its 10.5 percent growth in clean energy employment since 2013 are impressive achievements. Other states should consider developing similar reports so that they too can track the job-related impacts of their clean energy programs."
The 2014 Massachusetts Clean Energy Industry Report describes the size, scope, and growth of the Commonwealth's clean energy industry. For example,
*The Massachusetts clean energy industry has grown to 88,372 clean energy workers and 5,985 firms, which have added more than 28,000 clean energy workers to their payrolls since 2010.
*The Massachusetts clean energy industry is expected to exceed 6,000 employers and 100,000 workers by early 2015.
*The Massachusetts clean energy sector is a $10 billion industry, responsible for about 2.5 percent of the state's gross state product.
*Solar deployment is creating over 12,000 jobs, and the need to find qualified employees is growing.
To download the report, visit the Massachusetts Clean Energy Center's website at www.masscec.com/2014IndustryReport.
Featured Product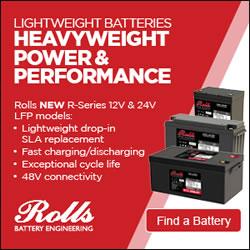 Designed for true drop-in replacement, Rolls new R-Series 12V & 24V LFP lithium models offer a maintenance-free lightweight flooded and SLA alternative in four popular BCI case sizes with fast charge/discharge capability. Rolls custom built-in BMS provides all necessary operating protections for safe operation and seamless integration for deep cycle replacement in 12V, 24V or 48V systems.