Brazil, Chile and Mexico are stimulating market growth, but opportunities exist across the entire region
Santa Clara, Calif., September 29, 2014ó Solar photovoltaic (PV) technology is poised to play a substantial role in fulfilling the need for increased power generation capacity across the Latin America and Caribbean (LAC) region. According to the latest NPD Solarbuzz Emerging PV Markets Report: Latin America & Caribbean, the total PV project pipeline is growing throughout the region and now exceeds 22 GW of projects across all phases of development. Over the next five years, approximately 9 gigawatts (GW) of projects will be installed: 1 GW of projects are already under construction, and 5 GW of projects have received approval to proceed and could begin construction soon.

"Solar PV is now starting to emerge as a preferred energy technology for Latin American and Caribbean countries," said Michael Barker, senior analyst at NPD Solarbuzz. "The region has high electricity prices and it also benefits from strong solar irradiation, which makes it a good candidate for solar PV deployment. As a result, experienced global solar PV developers are seeing the strong solar PV growth potential in the region."
Previously the LAC region was confined to small-scale and off-grid solar PV applications, including rural electrification; however, today solar PV is being targeted to address large-scale utility power project requirements, primarily in Brazil, Chile, and Mexico. Many of these projects are being developed by experienced international firms, including leading U.S.-based companies First Solar, SunPower and SunEdison, and European developers Mainstream, Enel, and Solaria, which increases the likelihood that these projects will ultimately be executed.
"Many countries across the LAC region have the potential to develop into major solar PV markets in the future," added Barker. "While project pipelines vary by country, there is a strong contribution from early-stage developments that have yet to finalize supply deals or find end-users to purchase the generated electricity, which presents both risks and opportunities for industry players."
Figure: Latin America & Caribbean Five-Year Cumulative Demand Forecast by Project Status
Source: NPD Solarbuzz Emerging PV Markets Report: Latin America & Caribbean
For more information about the Emerging PV Markets Report: Latin America & Caribbean, contact Charles Camaroto at 888-436-7673 or 516-625-2452, or e-mail contact@displaysearch.com for more information.
About NPD Solarbuzz
NPD Solarbuzz, part of The NPD Group, offers Marketbuzz, Solarbuzz Quarterly, and annual downstream photovoltaic (PV) market reports, providing the solar energy and PV industries with global historical and forecast data for the PV supply chain. For more information, visit www.solarbuzz.com or follow us on Twitter at @Solarbuzz.
About The NPD Group, Inc.
The NPD Group provides global information and advisory services to drive better business decisions. By combining unique data assets with unmatched industry expertise, we help our clients track their markets, understand consumers, and drive profitable growth. Practice areas include automotive, beauty, consumer electronics, entertainment, fashion, food/foodservice, home, luxury, mobile, office supplies, sports, technology, toys, and video games. For more information, visit npd.com and npdgroupblog.com. Follow us on Twitter at @npdtech and @npdgroup.
NPD Solarbuzz and Marketbuzz are registered trademarks of The NPD Group.
Featured Product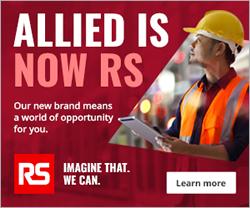 Moxa is a leader in edge connectivity, industrial computing, and network infrastructure solutions for enabling connectivity for the Industrial Internet of Things. With over 30 years of industry experience and 65 million devices connected worldwide, Moxa has a distribution and service network to serve customers in more than 80 countries. Now at Allied-find over 1,000 products from Ethernet switches, protocol converters, routers, and more. Allied Electronics & Automation, part of RS Group & Automation, part of RS Group is an authorized distributor of Moxa.