NEC to launch sales of Space-Time Insight's real-time visual analytics applications in Japan and Asia Pacific
SAN MATEO Calif. & TOKYO, Japan, Sept 30, 2014 – Space-Time Insight, the leading provider of next-generation situational intelligence solutions, and NEC Corporation (NEC; TSE: 6701) have announced the formation of a partnership for the smart energy market.

Under this partnership, NEC has concluded a preferred sales contract covering Japan and the Asia-Pacific (APAC) region with Space-Time Insight for the sale of several of the company's real-time visual analytics applications, which have already been successfully deployed to major utilities in North America and elsewhere around the globe. NEC plans to focus its sales efforts on demand response, small grids (microgrids) and advanced metering infrastructure (AMI). Space-Time Insight's software applications help businesses make faster more-informed decisions by correlating, analyzing and visualizing large volumes of business, operational and external data, spatially, over time and across nodes in a network.
Renewable energy, energy storage and smart meter initiatives are being driven by the need for more reliable and efficient electricity systems. With these systems continually generating vast quantities of data, there is an urgent need to quickly and accurately retrieve, analyze and take action on the data and derive greater operational insight.
This partnership enables NEC to combine its energy storage systems (ESS) and information and communication technology (ICT) solutions with Space-Time Insight's real-time visual analytics applications to provide electricity operators and local governments with a comprehensive view of the health and performance of storage batteries installed in different locations. In addition, the new applications enable the monitoring of solar, wind and other power-generation output, historical power generation trends, the operational status of individual smart meters, communications and health information, and other information that contributes to improving the stability and efficiency of power networks.
"To expand our product offerings, NEC required world-class visual analytics software that could handle big data and operate under real-time conditions," said Takemitsu Kunio, Senior Vice President of NEC Corporation. "Only Space-Time Insight, with a proven track record of successful deployments at major utilities globally, offered the breadth and depth of situational intelligence applications we needed."
"NEC's decision to partner with Space-Time Insight underscores the maturity of our applications, our situational intelligence vision for the market and proven worldwide success," said Rob Schilling, CEO of Space-Time Insight. "When coupled with Space-Time Insight's real-time visual analytics applications, NEC's smart energy products will deliver solutions that meet the needs of today's advanced utilities in the Japanese and the Asia-Pacific energy markets."
About NEC Corporation
NEC Corporation is a leader in the integration of IT and network technologies that benefit businesses and people around the world. By providing a combination of products and solutions that cross utilize the company's experience and global resources, NEC's advanced technologies meet the complex and ever-changing needs of its customers. NEC brings more than 100 years of expertise in technological innovation to empower people, businesses and society. For more information, visit NEC at http://www.nec.com.
About Space-Time Insight
Space-Time Insight helps companies in asset-intensive industries make faster, more-informed decisions. Our real-time visual analytics applications correlate, analyze, and visualize large volumes of business, operational and external data, spatially, over time and across network nodes. Space-Time Insight's award-winning software powers mission-critical systems for some of the largest companies around the world, helping them reliably, efficiently and economically deliver services and rapidly plan for and respond to a full range of operating events. Space-Time Insight partners with leaders in the industry including Accenture, Esri, IBM, NEC, OSIsoft, SAP, Siemens and Unicorn Systems. Space-Time Insight is privately held and based in San Mateo, CA.
For more information, visit http://www.spacetimeinsight.com .
Featured Product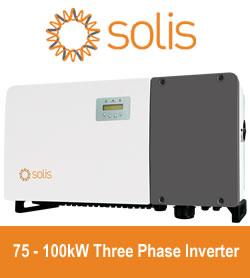 Solis75kW - 100kW series high-power string inverters are widely used in industrial and commercial rooftops. Solis's new three-phase string inverter is the first choice for industrial and commercial photovoltaics. 75-100kW three phase series string inverter have Maximum 28 strings input, support "Y" type connection in DC side. Maximum string input current 13A, support bifacial modules access.Supports anti-PID function to improve system efficiency.