JA Solar now shipping rapid shutdown compliant smart modules optimized by Tigo Energy
SHANGHAI--JA Solar Holdings Co., Ltd. (JASO) ("JA Solar" or the "Company"), one of the world's largest manufacturers of high-performance solar power products, today announced that it selected Tigo Energy to optimize its newly launched JA smart module line. The smart module product integrates Tigo's technology into the junction box, resulting in high conversion efficiency, enhanced safety, improved panel-level monitoring, and the use of up to 30% longer strings.

"Smart modules are an important advance for the entire industry," said Mr. Yong Liu, Chief Operating Officer of JA Solar. "Our smart modules are an exciting product that demonstrates our commitment to leading the industry through innovation. Tigo's solution helps us meet our customers' high expectations for functionality and reliability. Tigo is a valuable technology and marketing partner for us."
JA Solar uses only the highest quality components from the best suppliers for its products. Technology from Tigo Energy meets this exacting standard. For instance, Tigo recently announced that its optimizing solution meets the NEC rapid shutdown requirements in the U.S., enabling JA's smart modules to thus satisfy the requirements set by the new 2014 code. In general, all JA Solar products are manufactured through an automated, in-house procedure, which was inspected and certified by PI-Berlin and Solar-IF. In addition to successful PID certification, the Company's products are certified by TÜV SÜD and ETL for long-term reliability, harsh climate environment endurance, and other additional certifications.
"We have worked hard to become the number one technology provider for the smart module industry," said Zvi Alon, Chairman and Chief Executive Officer of Tigo Energy. "Selection by JA Solar of our technology strongly validates the technology and business model that we developed. We are excited to offer this integrated solution to our mutual customers."
JA Solar's smart module is available today and will be on display at the Solar Power International conference in Las Vegas from October 21 to 23, 2014.
About Tigo Energy
Tigo Energy is the market leader in smart module technology for the solar industry. The Silicon Valley Company utilizes a patented technology to increase energy production, simplify design and installation, improve fire safety, and ensure the highest uptime and reliability with cloud-based monitoring. Tigo Energy's highly integrated solution is the first and most successful smart module solution in the industry.
For more information, please visit www.tigoenergy.com.
About JA Solar Holdings Co., Ltd.
JA Solar Holdings Co., Ltd is a world leading manufacturer of high-performance solar cells and modules. The company was founded in May 2005 and publicly listed on the NASDAQ in February 2007. Capitalizing on its strength in solar cell technology, it is committed to providing modules with unparalleled conversion efficiency, yield efficiency, and reliability to enable customers to maximize the returns of their PV projects.
For more information, please visit www.jasolar.com.
Featured Product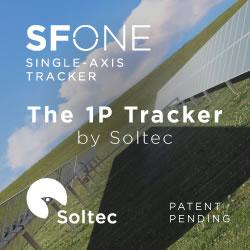 Under the slogan "engineered for greatness", the SF8 tracker aims to revolutionize the photovoltaic market with its new minimum 2x60 configuration and 4 to 6-strings. This tracker is elegantly designed while it reinforces its structure to perform in any terrain. In addition, the SF8 tracker increases the rigidity of its structure by 22% more than the previous generation of Soltec trackers, the SF7. The SF8 is specially designed for larger 72 and 78 cell modules, an increasing market trend.