LG Energy becomes official Sunrun distributor allowing them to launch available solar power systems to a larger demographic with affordable pricing suitable for all consumers' homes.
October 01, 2014

We live in a tight budgeted market where every consumer has savings on their mind but might not have the resources to start. Some of the most desired long term savings such as solar power need an initial investment to gain momentum which not everyone is able to put up. Now, however, LG Energy is an official Sunrun distributor launching their solar panel systems for a wider demographic of consumers' homes. When discussing long term savings for the average consumer, solar energy ranks at the top of the list. Research on 20 year savings earned from one solar power system on the average consumer's home leaves us with eye opening saving statistics.
The director of CleanTechnica, Zachary Shahan states and asks, "In California, New York, Nevada, New Mexico, and Arizona, those savings would actually reach beyond $40,000 (on average), but in almost every state in the country, the savings would at least be over $10,000, and would more often than not be over $20,000. Who wouldn't want to cash in on such savings?"
The answer to that question lies in the availability of renewable energy. Up until today there were not many easy and affordable options for a wider demographic of consumers to enjoy the savings of solar power. The recent switch for LG Energy to start distributing Sunrun products has now granted them the leeway to make such affordable options in solar energy for any consumer. The panels that LG Energy and Sunrun provide produce 50% more energy than any other panels in the world, and Sunrun builds a new system every 10 minutes. The secret to the new affordability comes with the proven performance of the panels.
"Because our panels produce more energy, consumers need only a small solar system with fewer panels. This choice offers several advantages: It's the most affordable and cost-effective energy solution (save money), will take less time to install (save time), will use less space on the consumers roof (better design), and we offer them for $0 down," explains Debra, solar advisor for LG Energy.
LG Energy distributing Sunrun products now provides a platform to begin leasing and financing programs, the plan to be more widely affordable and available is in full effect. Consumers who were not previously able to go out of pocket on such a saving investment are now given the opportunity to lock in low fixed rates to pay for their investment, and still save similar figures over the years.
Featured Product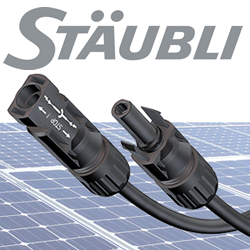 ​Stäubli Electrical Connectors are used on more than 300 GW, over 50% of the PV capacity worldwide. The MC4 family of UL and TUV listed products include connectors, in-line fuses, branch connectors, cable assembly and more.