Project aims to develop a business model that enables automatic optimization of electric power supply and demand
Kyocera Corporation (herein "Kyocera"), IBM Japan, Ltd. (herein "IBM Japan"), Tokyu Community Corp. (herein "Tokyu Community") will start a demonstration test of an automatic demand response (ADR) network this October. ADR is a mechanism that automatically optimizes the balance between supply and demand of electric power to ensure a stable supply.

This test adopts the OpenADR 2.0 Profile b international standard and is Japan's first*1 demonstration test that will automatically execute several key steps for power optimization, including sending a power-saving request (DR signal) when electric power supply and demand become constrained, providing DR signal reception at electric power consumers (such as households and companies), controlling electric power optimization via Energy Management Systems (EMS) and sending reports of DR results. There are a total of 25 demonstration sites taking part in this test, including Kyocera's Yokohama Office, and the testing period is planned to last from October 2014 to March 2015.
Background
Since the Great East Japan Earthquake of March 2011, there has been demand to establish systems which enable the stable supply of electric power and build mechanisms for more efficient use of power, even when electric power supply and demand are constrained. As the number of new electricity providers grows in preparation for the full deregulation of the electricity industry in 2016, various tests are underway to optimize the balance between electricity providers and consumers.
Demand response refers to a mechanism where electricity providers request consumers to cooperate in reducing their electric power usage in order to adjust the balance between supply and demand when it becomes strained. This allows electricity providers to achieve a stable supply of electric power and to reduce surplus electric power and the need for facilities reserved for peak demand. On the other hand, there are also advantages for consumers such as being able to control their electric power usage and receiving financial incentives based on power-saving results.
The current state in Japan is one where electricity providers simply send power-saving requests to consumers via telephone or e-mail, and a mechanism has not been established to automatically optimize the balance between the supply and demand of power in real time. Therefore, there are high expectations for ADR in Japan, which will enable automatic optimization of the balance between supply and demand.
Project Summary
1. Overview of the demonstration test
This demonstration test is the first effort in Japan to automatically execute the sending/receiving of power-saving requests (DR signals) issued by electricity providers, power-saving support through EMS control at each site, organization of results, and sending of results to the DR signal sender. This test is being conducted as part of an ADR collaborative demonstration by Waseda University at the EMS Shinjuku Demonstration Center.
There are a total of 25 demonstration sites including the Kyocera Yokohama Office, nine commercial facilities, and 15 general residences. Upon receiving the instructions of a DR signal, each site controls its EMS-compatible equipment (such as lighting, air conditioning, storage batteries) to restrict and optimize electric power usage. Power-saving results at each facility are then organized and fed back to electricity providers.
Establishment of this ADR mechanism will allow electricity providers to accurately calculate electric power usage in real time to reduce surplus electric power and facilities and control investments. As consumers can also receive financial incentives for responding to power-saving requests and energy-saving activities, the resulting savings may also positively impact the electricity retail market. Aggregators (intermediary companies) assume the role of coordination and meditation between electricity providers and consumers, and it is expected that this role will become increasingly important.
Kyocera, IBM Japan and Tokyu Community have acquired various types of aggregator certifications, and will work to accumulate ADR-related technologies and know-how through these demonstration tests. Furthermore, these three companies will aim to construct a business model for deployment to offices, commercial facilities and collective housing complexes such as apartment buildings while making efforts to enhance the aggregator business looking towards the upcoming liberalization of the electricity industry.
Featured Product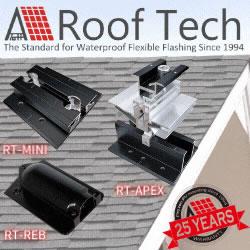 Now Roof Tech brings you the most innovative, watertight mounting systems ever developed for solar photovoltaic systems. Designed and manufactured exclusively for us by Japan's longtime leader in roofing technologies, Roof Tech products are 100% code-compliant and offer fast, simple installation and huge savings on shipping costs due to their compact, rail-less design. Learn more about our full line of versatile PV mounting solutions now available for residential installations. The next generation in rooftop solar mounting solutions."