How Will a Lithium-Ion Battery Shortage Impact EVs?
Many people are becoming increasingly interested in electric vehicles (EVs). For some, the reduced environmental impact is a primary driver. Others dislike dealing with the uncertainty of fluctuating fuel prices. However, a possible battery shortage threatens to put the brakes on any anticipated EV boom.
Rising Vehicle Popularity Could Worsen the Problem
If a person buys one of the most widely available EVs, there's a good chance it has a lithium-ion battery. They're among the most popular power sources for today's electric vehicles.
The production of those components requires several raw materials, including lithium and cobalt. Data published in a 2020 study estimated that the lithium-ion batteries used in electric vehicles during 2019 required 19 metric kilotons of cobalt and 17 metric kilotons of lithium. Moreover, projections indicate those material demands could rise to 180 and 185 kilotons, respectively, by 2030.
These statistics emphasize why people interested in electric vehicles and their adoption rates are increasingly eager to find more widely available battery materials. However, it could take a while before those become feasible options.
A Battery Shortage Might Make EVs More Costly
The desire for bigger batteries that offer longer ranges is one of the reasons behind the forecasted increased usage of materials. Fortunately, numerous projects are underway to make charging stations more accessible, including efforts to bring them directly to drivers.
Even so, many potential EV buyers automatically view longer ranges as a superior choice. That belief accelerates the demand for manufacturers to produce larger batteries that require more materials.
Consumers could experience the effects of a battery shortage, too. In March 2021, Goldman Sachs analysts noted that the three main materials used to make a lithium-ion battery have been going up since the start of the year. They also pointed out that the trend would push battery costs about 18% higher, cutting into manufacturers' profits.
If that happens, the consumer costs of EVs would also rise, since the battery comprises as much as 60% of the vehicle manufacturing budget, the analysts said. They did not give many specifics regarding the extent of the additional cost but did offer a possible scenario.
In the event that nickel prices soar to their historic peak of $50,000 per tonne, that could make EVs $1,250 to $1,500 more expensive for the people who want to buy them. The bigger price tag could dampen consumer demand, but won't likely happen especially soon. People familiar with the matter believe it could occur over the next decade.
Pushing Researchers to Develop Different Power Sources
As people become more concerned about the reality that a lithium-ion battery does not represent a limitless resource, that could cause researchers to prioritize coming up with newer, better batteries that don't rely on materials facing shortages.
Selecting a battery as a safe and effective candidate starts with understanding its characteristics during all types of use. For example, lithium-ion batteries have an exothermic reaction during charging that produces heat. Engineers must develop temperature management devices to stop them from overheating.
Thus, finding a battery alternative is only part of the goal. Other efforts center on ensuring it performs as expected without creating hazards.
However, progress is underway. In one example, researchers from the University of Texas at Austin developed a lithium-ion battery without cobalt, which they said was its least abundant material. A battery's cathode typically contains all of its cobalt. However, the option developed in this research was 89% nickel, along with manganese and aluminum.
The primary use of nickel for the cathode should lead to longer driving distances, the researchers said. They also noted that cobalt is the most expensive material used for a cathode. It's costlier than the combined costs of nickel, manganese, and aluminum and can account for nearly a third of many lithium-ion battery cathodes, they said.
Thus, this achievement could pave the way for battery alternatives with superior performance and more reasonable production costs. If so, that's a mutually beneficial situation for EV owners and manufacturers.
Creating New Business Opportunities
Although the electric vehicle industry as a whole opened more options for people with entrepreneurial mindsets, the same may be true for the battery shortage issue. After all, most businesspeople know the importance of coming up with ideas that solve identified problems.
Building Factories in the U.S.
One of the options is to build more battery factories in the United States. That would reduce dependence on China, which currently dominates the lithium-ion battery market.
According to one industry source, only 23% of the world's raw battery materials come from China. However, the Asian nation still accounts for 80% of overall production due to its success in chemically producing battery-grade materials.
Setting up factories in the United States makes sense, but it's also not straightforward. Dr. Francis Wang, CEO of battery technology company NanoGraf, admitted, "We don't have a supply chain in the United States. I think we're trailing behind."
He continued, "The battery business is a tough business. It's incredibly capital-intensive. It costs millions, if not billions, of dollars to get a factory off the ground. The margins are pretty tight. Razor-thin. And there is a tremendous amount of risk."
Making Old Batteries Into New Ones
A new startup called Redwood Materials could provide an alternative until more U.S. factories get built. Rather than creating batteries, this business model focuses on recycling them. Company leaders envision a closed-loop battery supply chain that supports sustainability while addressing the materials shortage.
One challenge is that there are not enough EVs in junkyards yet to source the company's needs. For now, one of its workarounds is to get batteries from consumers. That makes sense, especially since most people have at least a few lithium-ion phone batteries associated with smartphones they no longer use.
The Redwood Materials process involves heating the batteries to 2,700 degrees Fahrenheit to turn the metal into a hot liquid. Then, supplementary chemical processes reduce the metal into ultra-concentrated forms of lithium, cobalt, and nickel.
It's too early to say how much pioneering approaches like that one could address the battery shortage, but that's an example of what's possible.
No Quick Solution for the Battery Shortage
No single or fast fix will address the issues here surrounding a battery materials shortage. If a significant scarcity does occur, that could negatively impact people's enthusiasm for EVs. However, since some of the effects detailed here are still years away, time remains to figure out some practical paths forward.
Comments (0)
This post does not have any comments. Be the first to leave a comment below.
---
Post A Comment
You must be logged in before you can post a comment. Login now.
Featured Product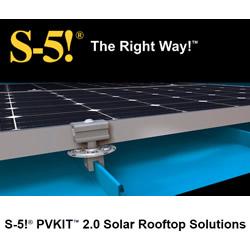 The concept of combining PV arrays with standing seam metal roofing is growing-for good reasons. Metal roofs have a life expectancy of more than 40 years. Shouldn't the mounting system last as long? With S-5! zero-penetration attachment technology and PVKIT 2.0, the solarized metal roof is the most sustainable system available -and without compromising roof warranties! PVKIT 2.0 is the also the best solution for attaching PV modules directly to any exposed fastener metal roof.