HES PV can now offer improved customer service for all distribution clients, faster delivery and lower freight costs for all customers in Canada. The acquisition allows Conergy to focus on project development/finance, EPC and O&M globall
BARRIE, Ontario and EDMONTON, Alberta (October 6th, 2014) – HES PV and Conergy, two recognized leaders in the Canadian solar market, are pleased to announce that they have entered into a definitive agreement under which HES PV is acquiring the Canadian solar distribution division of Conergy. HES PV is one of Canada's largest and oldest PV distribution companies. With warehouses in four provinces, HES has a large inventory of the key brands of solar modules, batteries, charge controllers and inverters (see http://hespv.ca/all-brands). HES PV has extensive grid-tie and off-grid experience, and offers training and engineering support to its clients. HES PV was awarded CanSIA's Solar Distributor of the Year in 2013. Conergy Canada is the Canadian branch of Conergy, one of the largest downstream solar companies globally. Conergy will now focus exclusively on project development, finance, EPC and O&M services in Canada.

Conergy's knowledgeable distribution staff have been offered positions with HES PV, and Conergy's Edmonton warehouse will continue to service Western Canada. Conergy's Eastern Canada customers will have the advantage of HES's fully stocked warehouse in Ontario, as well as access to a HES's larger product offering. Total value of the sale was not disclosed.
"Conergy has been committed to the Canadian market for more than 8 years and our distribution business has been a key factor in our success here" states Jared Donald, President of Conergy North America. "The sale of our distribution business to HES PV not only allows us to take a more focused approach on our core business of developing, financing, constructing and managing both rooftop and ground-mount solar projects, it ensures that our loyal employees and customers have a great home going forward with HES PV."
"This transaction with Conergy immediately gives HES PV the additional scale and resources required to service the needs of our growing customer base," said David Egles, President of HES PV. "The cultural alignment between the two companies gives us the confidence that the customer and staff transactions will be swift and effective. Our opportunity to service the Canadian solar industry better has just been increased with more locations and knowledgeable staff."
Policy certainty in Ontario, an Alberta government that has publicly committed to bringing on more renewables and ever decreasing system prices provide great opportunities for companies in the solar sector in Canada in the coming years.
Featured Product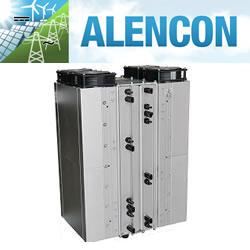 Alencon Systems is the premier manufacturer of high power, high voltage DC:DC optimizers for alternative energy applications including solar, battery energy storage, Microgrids, Fuel Cells and Electric Vehicle charging. Alencon's DC:DC converter offerings include the SPOT, BOSS and CUBE series DC:DC converters. The SPOT is a modular, uni-directional DC:DC solution ideal for solar applications. The BOSS is a modular, bi-directional unit for use with battery energy storage. The CUBE is a monolithic DC:DC converter which is available in both uni-directional and bi-directional modalities. Pictured above, is the Alencon SPOT.