Solar Power International (SPI) in Las Vegas, Nevada, on Wednesday, Oct. 22
WASHINGTON, DC – The Solar Energy Industries Association (SEIA) and the Solar Electric Power Association (SEPA) today announced that U.S. Secretary of Energy Ernest Moniz will keynote the general session at Solar Power International (SPI) in Las Vegas, Nevada, on Wednesday, Oct. 22. In his cabinet role, Dr. Moniz implements critical Department of Energy missions in support of President Obama's goals of growing the economy, enhancing security and protecting the environment.

"Since Secretary Moniz took office, he has been a strong supporter of the solar industry and the 143,000 Americans who work in solar energy," said Rhone Resch, SEIA president and CEO. "From the new pilot job training program for veterans to the continuation of the hugely successful SunShot Initiative and the important research at its national laboratories, the Energy Department under Secretary Moniz has helped reduce red tape and facilitated the development of clean, renewable solar energy. This Administration's forward-looking public policies – which allow emerging technologies to compete with entrenched energy sources – are helping to ensure a clean, prosperous future for our nation."
"Under the leadership of Secretary Moniz, the Department of Energy recognizes the important role of collaboration between the solar and utility industries to successfully advance our nation towards a cleaner energy future," said Julia Hamm, SEPA president and CEO. "Through funding of partnerships on smart grid deployment, solar research, and soft cost reduction, Secretary Moniz and the Energy Department are helping parties with often disparate interests to collaborate on areas of common interest. His participation in SPI 2014 is a demonstration of his commitment to further those positive efforts."
Today, solar is the fastest-growing source of renewable energy in the United States, pumping $15 billion a year into the U.S. economy and helping to reduce pollution.
Featured Product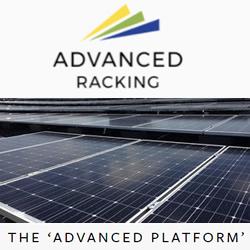 The 'Advanced Platform' simplifies the installation process by using universal mounting hardware that works perfectly across all roof types. Smart roof connection kits then connect to the specific roof's surface. The Advanced Platform is versatile: Our common design can be your single solution for all roof types.