MegaCell Engineering Srl has been founded by Franco Traverso, Italian entrepreneur already involved in the production of bifacial solar cells with MegaCell Srl. The new company is dedicated to the design of Smart Energy Systems, namely integrated and innovative systems to produce energy with low environmental impact and high-performance designed especially for development countries. It has been patented in these days the innovative system for seawater desalination powered by a hybrid photovoltaic system.
Carmignano di Brenta (Padova - Italy), 10/08/2014 - MegaCell Engineering Srl has been founded these days and it is going to have its official presentation today, at Smart Energy in Verona (8-10 October). It was established by the pioneer of photovoltaic Franco Traverso for the design of Smart Energy systems. Namely systems of integrated and innovative energy production with low environmental impact and high yield using hybrid photovoltaic systems, designed especially for developing countries. The company provides advanced engineering services and systems to companies and institutions mainly foreign who need to develop innovative solutions in the field of renewable energy.

The innovative start-up will complement the work already started by Mr. Traverso with the establishment in April of MegaCell Srl for the production at competitive costs of the new bifacial monocrystalline silicon N-type cell called "Bison" with high efficiency (already more than 20% ), developed together with the German Research Institute ISC Konstanz.
MegaCell Engineering, which employs a team of excellence with long technical experience, has already developed a number of important innovative projects, and first among them a fresh patent for sea water desalination. Smart Solar Desalination provides integration of the PV system, based on high-efficiency bifacial modules, a horizontal single-axis tracker and diesel generator to support the system in the event of excess energy demand or shortage of solar radiation .
The system is designed to work 24 hours on 24 and 7 days out of 7, is designed to produce about 1000 cubic meters / day of drinking water with a daily energy consumption of about 3600 kWh of which more than 3000 are supplied from solar. The actual energy requirement is reduced to just 0.43 kWh per cubic meter of drinking water produced, compared to 2.98 kWh/m3 of the traditional system powered by generator or from the electricity grid. The operating cost is then lowered to less than one-sixth.
The system provides for the entire cycle, from the abstraction and filtering until the desalination of sea water by a process of reverse osmosis (RO), the storage in tanks and then to the distribution of drinking water by pumps.
"A number of countries are adopting a policy of widespread use of solar energy for the mass production of electric energy" - says Franco Traverso. "In this context MegaCell Engineering, with its innovative products, is a partner able to offer engineered solutions and systems for high value technology designed to reduce the cost of the kilowatt-hour, making solar solution a true answer to energy needs in remote areas and also environmentally difficult. "
Featured Product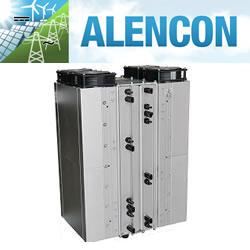 Alencon Systems is the premier manufacturer of high power, high voltage DC:DC optimizers for alternative energy applications including solar, battery energy storage, Microgrids, Fuel Cells and Electric Vehicle charging. Alencon's DC:DC converter offerings include the SPOT, BOSS and CUBE series DC:DC converters. The SPOT is a modular, uni-directional DC:DC solution ideal for solar applications. The BOSS is a modular, bi-directional unit for use with battery energy storage. The CUBE is a monolithic DC:DC converter which is available in both uni-directional and bi-directional modalities. Pictured above, is the Alencon SPOT.