Alstom Renewable Power Chairman Jérôme Pécresse and DCNS Marine Energy and Infrastructures Division Director Thierry Kalanquin were on hand on 13th of October as both groups signed a partnership agreement in the floating wind energy business. The agreement aims at developing and then commercialising an integrated system for a semi-submersible floating wind turbine delivering 6 MW.
The groups will combine their respective skills as naval architect and turbine manufacturer to develop a competitive, powerful solution for a large potential market. The objective is to be in a position to produce an initial 6MW wind turbine by 2017, featuring a semi-submersible floating system developed by DCNS plus Alstom's Haliade 150 offshore wind turbine, already being used in fixed-bottom offshore wind turbine technology.

Named "SEA REED", this project has received support from the ADEME, through a Technological Bricks CEI implemented as part of the "Investissements d'Avenir" scheme, specifically €6m in funding to cover the initial study and certification phase for the floating system featuring the Haliade turbine. Securing this support is a decisive step in developing a competitive solution for a floating wind turbine series model.
To begin with, both partners will work together at optimising the interface between the two systems. Alstom will be in charge of studies to adapt and integrate the Haliade with the floating system. For its part, DCNS will conduct studies on the behaviour, sizing, industrialisation and installation of the floating system combined with the turbine.
Floating wind energy provides an innovative alternative for enhancing the energy potential of maritime settings that are too deep to install fixed-bottom foundations. Such settings usually provide better wind conditions while being more extensive and less travelled than near-coastal areas. The floating system's innovative design and its simplified installation process (assembled at the port) will help the offshore floating wind energy business deliver competitive energy costs.
Producing the first series model acts as the first decisive marker prior to deploying pilot farms, and then commercial farms. Both partners are positioned to become the leaders in a new French industrial sector which will ultimately be open for export.
"By combining the technology of our Haliade offshore wind turbine with DCNS' unique expertise in the maritime field, we are merging our respective know-hows as early as possible in the process so we can work together at developing an innovative, competitive energy solution," said Alstom Renewable Power Chairman Jérôme Pécresse.
"This partnership will encourage the emergence of a floating wind energy sector that will create jobs in France throughout those coastal areas where the farms will be installed. Our agreement is the world's first-ever partnership between a naval architect and an energy-sector player who has already demonstrated the performance of a high-power wind turbine," pointed out DCNS Marine Energy and Infrastructures Division Director Thierry Kalanquin.
About Alstom
Alstom is a global leader in the world of power generation, power transmission and rail infrastructure and sets the benchmark for innovative and environmentally friendly technologies. Le Groupe sert de référence avec ses technologies innovantes et respectueuses de l'environnement. Alstom builds the fastest train and the highest capacity automated metro in the world, provides turnkey integrated power plant solutions and associated services for a wide variety of energy sources, including hydro, nuclear, gas, coal and wind, and it offers a wide range of solutions for power transmission, with a focus on smart grids. The Group employs 93,000 people in around 100 countries. It had sales of over €20 billion and booked €21.5 billion in orders in 2013/14.
www.alstom.com
DCNS: "Sea the Future"
DCNS is convinced that the planet's future lies with the sea. The Group is an inventor of high-tech solutions intended to secure it and enhance its value over the long term. DCNS is a world leader in the naval defence industry and an innovator in the energy sector. As a world-class high-tech company, DCNS is able to meet its customers' needs thanks to its outstanding know-how and its unique industrial means. The Group designs, produces and maintains operating submarines and ships. It also supplies services to naval shipyards and naval bases. Lastly, DCNS provides a wide range of solutions in civil nuclear energy and renewable marine energy. Concerned with corporate social responsibility issues, the DCNS Group is one of the first players in its sector to be certified ISO 14001. The Group's turnover is €3.4b and it employs 13,600 people (data for 2013). www.dcnsgroup.com
Featured Product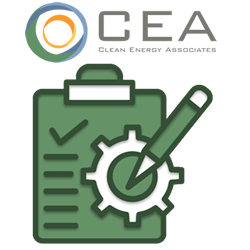 Clean Energy Associates provides a complete quality assurance solution that covers the entire product lifecycle of PV modules, storage systems, and every Balance of Sy stem (BOS) component. CEA's experienced on-the-ground and international team of quality control engineers and account managers offer an unparalleled quality assurance presence that can protect solar and storage investments and ensure future energy-producing viability for the life of the product.