Solar technology, which is also clean and renewable can also be considered as a power source to operate Bravo's machines.
NEW YORK, Oct. 9, 2014 -- Bravo Enterprises Ltd.

(OTCQB:OGNG) reports that the Company has formed a strategic alliance with
Sapec-Eco and Regenedyne LLC, in an effort to provide a new solution to
providing clean drinking water to small villages and towns that lack the
infrastructure.
The proposed project is the innovation of Simon Thomas Abela, an
Environmental Engineer, who is Managing Director of Sapec-Eco, currently a
Bravo Air to Water machine distributor. Mr. Abela's proposal combines
Bravo's air to water harvesting technology with Regenenedyne LLC's unique
wind renewable technology, which does not require large parcels of land to
provide a more economical and environmental solution. Mr. Abela's vision of
using Regenenedyne LLC's wind power to operate Bravo's industrial and
commercial Air to Water Harvesters could provide a better water production
then what is available today and provide it closer to consumption.
Solar technology, which is also clean and renewable can also be considered
as a power source to operate Bravo's machines. "The concept of bringing a
sustainable renewable self-sufficient source of clean drinking water to
isolated areas of population at an affordable price can change the direction
of urbanization," states Jaclyn Cruz, President of Bravo.
Many countries around the world have a major issue in providing clean
drinking water to its citizens. According to the latest estimates of the
WHO/UNICEF Joint Monitoring Program for Water Supply and Sanitation (JMP),
released in early 2013 (collected in 2011), 36 per cent of the world's
population - 2.5 billion people - lack improved sanitation facilities, and
768 million people still use unsafe drinking water sources. "Not only do we
feel we are providing an economical solution we are also providing a
humanitarian solution," states Jaclyn Cruz.
About Bravo Enterprises Ltd.
Bravo is a manufacturer and distributor of atmospheric water harvesting
machines for the production of clean, safe drinking water for human
consumption.
Featured Product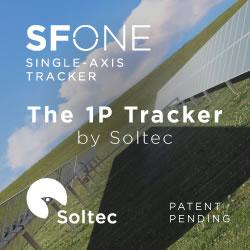 Under the slogan "engineered for greatness", the SF8 tracker aims to revolutionize the photovoltaic market with its new minimum 2x60 configuration and 4 to 6-strings. This tracker is elegantly designed while it reinforces its structure to perform in any terrain. In addition, the SF8 tracker increases the rigidity of its structure by 22% more than the previous generation of Soltec trackers, the SF7. The SF8 is specially designed for larger 72 and 78 cell modules, an increasing market trend.