A "unique combination" of technology and community
BETHEL, Conn., Oct. 10, 2014 -- Solar Data Systems, Inc. and Generaytor, today announced a partnership that connects the new Solar-Log & GE Meter to the Generaytor community of passionate solar homeowners. The Solar-Log & GE Meter integrated the market leading PV monitoring technology with the popular General Electric residential meter. The resulting device assures maximized solar electric performance while providing revenue grade reporting.

Solar-Log customers are now able to connect to the Generaytor community, share their solar experiences, discover other supportive local solar homeowners, showcase their real-time solar performance, and gain insights beyond their own energy production.
Generaytor community members can also invite their friends to experience the benefits of solar through a "Virtual Solar" simulation. A street address and some basic details about the home are all that are needed for an accurate prediction of the financial benefits of going solar. Continuously updated performance data from nearby Solar-Log monitored systems help calculate the estimates.
"At Solar-Log we recognize that hardware and software are just the beginning, and that community is a noteworthy addition of the full solar experience" said Anton Kaeslin, President of Solar Data Systems, Inc. "Solar-Log's sophisticated online monitoring, that shows PV plant performance graphically and numerically, is an excellent tool for the Generaytor community to share among the ever growing number of solar plant owners."
"Generaytor is thrilled to add Solar-Log users to our growing network of visionary members of the solar energy ecosystem" said Paolo Tedone, Co-founder and VP Business Development of Generaytor. "Solar-Log's technology is exactly what consumers need to cooperate and compete on Generaytor, to produce more energy and lead the way for others to go solar."
Current Solar-Log WEB users can join the Generaytor community by simply visiting their portal and clicking on the "Join Generaytor" link.
About Solar Data Systems, Inc.
Solar Data Systems, Inc. is the maker of Solar-Log, a web-enabled monitoring system for photovoltaic plants. Based in Bethel, Connecticut, Solar Data Systems helps plant owners, installers and renewable finance companies maximize their PV plant's performance. Key functions of the Solar-Log product family include, visibility of the plant's production and conditions, real-time detection of issues, immediate alerts, comprehensive failure logs and revenue-grade metering for incentive reporting. Solar-Log currently monitors an ever-growing number of 233,000 plants globally, with over 979,000 connected inverters, amounting to over 6.8 GW of power output. Solar Data Systems is a division of Solare Datensysteme GmbH, which is headquartered in Binsdorf, Germany.
About Generaytor:
Generaytor is the world's solar community, created to accelerate solar adoption. Solar homeowners around the globe connect online on Generaytor and share their solar data and experience, helping pave the way for others. Newcomers who aspire to go solar, or simply care, benefit from the community's experience and can also simulate their home with solar using Generaytor's Virtual Solar. Visit us: http://www.generaytor.com.
Featured Product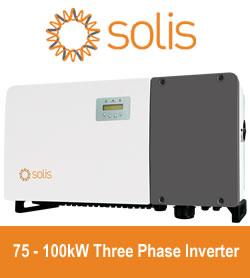 Solis75kW - 100kW series high-power string inverters are widely used in industrial and commercial rooftops. Solis's new three-phase string inverter is the first choice for industrial and commercial photovoltaics. 75-100kW three phase series string inverter have Maximum 28 strings input, support "Y" type connection in DC side. Maximum string input current 13A, support bifacial modules access.Supports anti-PID function to improve system efficiency.