Project finance climbs to $41.8 billion, a seven-quarter high---- Number of public markets issuances reaches three-year peak---- 2014 poised to register first year-on-year growth for total new clean energy investment since 2011
London and New York, October 14, 2014. Clean Energy Pipeline, the online financial news and data service dedicated to the clean energy sector, today releases its preliminary analysis of venture capital, private equity, project finance, mergers and acquisitions and public markets activity during 3Q14.

New investment in the global clean energy sector totalled $64.8 billion in 3Q14, a 3% decrease on 2Q14 ($67.0 billion) but an 11% increase on the corresponding quarter in 2013 ($58.4 billion).
"Despite a marginal quarterly decrease in clean energy investment in 3Q14, it is increasingly likely that new investment levels in 2014 will surpass 2013," commented Douglas Lloyd, CEO of Clean Energy Pipeline. "This is welcome news for the industry following annual declines in investment in both 2012 and 2013."
Project finance reaches seven-quarter high
Clean energy project finance totalled $41.8 billion in 3Q14, a 2% uptick on the $41.1 billion invested in 2Q14 and a 17% increase on the $35.6 billion invested in the corresponding period in 2013. In fact, project finance in 3Q14 was at a seven-quarter high.
The increase was a direct result of a 15% quarterly surge in investment in Asia to $14.6 billion. This was underpinned by investment in Chinese solar projects more than doubling to $5.4 billion.
Investment in Japanese renewable energy projects was also buoyant – some $1.8 billion was invested in 3Q14, the highest quarterly volume ever recorded. Investment was boosted by the $867 million loan led by Bank of Tokyo–Mitsubishi UFJ, Mizuho Bank and Sumitomo Mitsui Banking Corporation to fund construction of the 231 MW Setouchi City solar PV project, which will be the largest in Japan when operational.
Other notable project debt finance deals in 3Q14 include the UK Green Investment Bank and Marubeni's $623 million refinancing of their 50% stake in the 210 MW Westermost Rough offshore wind farm in the UK, and the $481 million debt tranche arranged for Covanta's 58 MW energy-from-waste facility in Dublin, Ireland.
Number of public market deals reaches three year high
Clean energy companies raised $3.6 billion on the public markets globally in 3Q14 through a mixture of IPOs, secondaries and convertible notes, equating to a 13% increase on the $3.2 billion secured during the corresponding period in 2013. Encouragingly, some 31 public market deals were completed in 3Q14, the highest number since 2Q11.
YieldCos continued to raise capital on the public markets in 3Q14. Two YieldCos raised a combined $1.2 billion last quarter, a 30% increase on the $945 million quarterly average secured by YieldCos since the beginning of 2013.
In addition, two solar companies completed notable IPOs in 3Q14. Residential solar installer Vivint Solar secured $330 million through an IPO on the New York Stock Exchange while Chinese solar backsheet manufacturer Hangzhou First PV Material raised $265 million through an IPO on the Shanghai Stock Exchange.
M&A value falls but deal numbers remain steady
Clean Energy M&A activity totalled $11.4 billion in 3Q14, a 33% decrease on the $17.1 billion transacted last quarter. The number of announced deals remained robust at 263, in line with the quarterly average number of deals during the past three years (274).
3Q14 was notable for a number of large acquisitions in the waste sector – acquisitions of waste businesses, including solid waste and wastewater treatment, recycling and waste-to-energy companies, accounted for 30% ($3.4 billion) of the total value of investments in 3Q14. The most notable deal was Energy Capital Partners' acquisition of waste-to-energy facility operator Wheelabrator Technologies for $1.9 billion in July 2014. The transaction, which is the fourth largest deal in the last 12 months, accounted for 17% of the total value of M&A activity in 3Q14.
YieldCos also continued their acquisition spree, although they were less active than over the last 18 months. In total, YieldCos announced acquisitions valued at $805 million in 3Q14, a 28% decrease on the average quarterly value of acquisitions by YieldCos since the beginning of 2013 ($1.1 billion).
Venture capital and private equity activity remains quiet
Venture capital and private equity investment in clean energy (excluding buyouts) totalled $1.5 billion in 3Q14, representing a 4% increase on the $1.4 billion invested in the corresponding period in 2013.
Solar was the largest sector for investment in 3Q14, accounting for 25% of total venture capital and private equity investment. Notable solar deals include the $110 million secured by residential solar company Sunnova (investors undisclosed) and GlassPoint Solar, which secured $53 million from Oman sovereign wealth fund State General Reserve Fund, Royal Dutch Shell and existing investors Chrysalix Energy Venture Capital, Nth Power and RockPort Capital.
Featured Product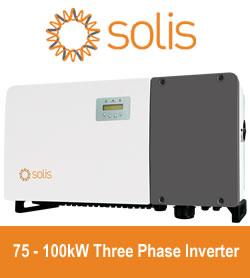 Solis75kW - 100kW series high-power string inverters are widely used in industrial and commercial rooftops. Solis's new three-phase string inverter is the first choice for industrial and commercial photovoltaics. 75-100kW three phase series string inverter have Maximum 28 strings input, support "Y" type connection in DC side. Maximum string input current 13A, support bifacial modules access.Supports anti-PID function to improve system efficiency.