Today Ballard announced the signing of a non-binding MOU with Rigas Satiksme, a Latvian transit bus operator, and Škoda Electric (Škoda), a leading Czech Republic bus and tram manufacturer.
VANCOUVER, CANADA – Today Ballard announced the signing of a non-binding Memorandum of Understanding (MOU) with Rigas Satiksme, a Latvian transit bus operator, and Škoda Electric (Škoda), a leading Czech Republic bus and tram manufacturer, in relation to a hydrogen fuel cell-powered trolley bus development and deployment program called "Hy-Trolley", for the city of Riga, Latvia.

Rigas Satiksme provides public transportation services throughout Riga, the capital of Latvia, including operation of more than 250 trolley buses, 116 trams and 415 diesel buses. Growth in the city has made expansion of the catenary network that supports the trolley bus fleet impractical. As a result, some trolley buses operate with diesel generators for a portion of their route, adversely affecting air quality. Replacement of diesel generators with clean energy power modules supplied by Ballard will eliminate emissions from the trolley buses.
"We are concerned about air quality in Riga and are searching for ways to improve it," said Leons Bemhens, CEO of Rigas Satiksme. "We are confident that this proposal with Skoda and Ballard can be an important part of the solution."
Under the Hy-Trolley program, Škoda and Ballard will undertake a feasibility study and product evaluation, followed by potential replacement of up to 27 diesel generators on existing trolley buses with Ballard's next-generation FCvelocity®-HD7 fuel cell power module in the 2016 timeframe. The Ballard module features reduced parts count – including fewer moving parts – integrated air compressor and coolant pump along with reduced parasitic load.
Ladislav Sobotka, CTO and Board Member of Škoda said, "Škoda is very happy to be working with Ballard on this exciting opportunity to provide a zero-emission solution for an important customer."
Škoda is focused on manufacturing vehicles for public transportation and railways and has a long history of developing and manufacturing low-floor trams, trolley buses and hybrid vehicles for ecological public transport in European cities.
Larry Stapleton, Ballard Vice President of Global Sales added, "Ballard has extensive experience with heavy-duty fuel cell modules. We are excited to have this opportunity to work on the Hy-Trolley program with Rigas and Škoda for delivery of clean transportation in Riga using our leading-edge product solution."
About Ballard Power Systems
Ballard Power Systems (NASDAQ: BLDP)(TSX: BLD) provides clean energy fuel cell products enabling optimized power systems for a range of applications. Products deliver incomparable performance, durability and versatility. To learn more about Ballard, please visit www.ballard.com.
This Market Update contains forward-looking statements concerning anticipated supply relationships, market demand and growth. These forward-looking statements reflect Ballard's current expectations as contemplated under section 27A of the Securities Act of 1933, as amended, and Section 21E of the Securities Exchange Act of 1934, as amended. Any such forward-looking statements are based on Ballard's assumptions relating to its financial forecasts and expectations regarding its product development efforts, manufacturing capacity, and market demand.
These statements involve risks and uncertainties that may cause Ballard's actual results to be materially different, including general economic and regulatory changes, detrimental reliance on third parties, successfully achieving our business plans and achieving and sustaining profitability. For a detailed discussion of these and other risk factors that could affect Ballard's future performance, please refer to Ballard's most recent Annual Information Form. Readers should not place undue reliance on Ballard's forward-looking statements and Ballard assumes no obligation to update or release any revisions to these forward looking statements, other than as required under applicable legislation.
This Market Update does not constitute an offer to sell or the solicitation of an offer to buy securities. The Ballard Common Shares have not been registered under the United States Securities Act of 1933, as amended, or the securities laws of any other jurisdiction and may not be offered or sold in the United States absent registration or an applicable exemption from registration requirements.
Featured Product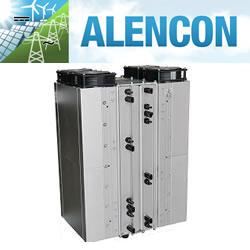 Alencon Systems is the premier manufacturer of high power, high voltage DC:DC optimizers for alternative energy applications including solar, battery energy storage, Microgrids, Fuel Cells and Electric Vehicle charging. Alencon's DC:DC converter offerings include the SPOT, BOSS and CUBE series DC:DC converters. The SPOT is a modular, uni-directional DC:DC solution ideal for solar applications. The BOSS is a modular, bi-directional unit for use with battery energy storage. The CUBE is a monolithic DC:DC converter which is available in both uni-directional and bi-directional modalities. Pictured above, is the Alencon SPOT.