Acquires Land and Development Rights for 6 MW Ultra-High Voltage Project
ROSEVILLE, Calif.--SPI Solar ("SPI") (OTCBB:SOPW), a vertically-integrated photovoltaic solar developer, today announced that it has entered into an agreement to acquire both land and project development rights for a 6 megawatt ("MW") project in Susami City, Wakayama Prefecture, Japan. The agreement calls for SPI's Japan subsidiary, SPI Solar Japan GK ("SPI Japan"), to provide engineering, procurement and construction ("EPC") services for the project, which SPI will own following its completion. Construction on the project is scheduled to begin in November 2014, with completion expected by August 2015.

The 6 MW project planned for Susami City marks SPI Japan's first ultra-high voltage ("UHV") project (classified in Japan as larger than 2 MW) for this market.
"Having just recently established our Japan subsidiary in September 2014, we are delighted to have already announced several projects in this important market," said Xiaofeng Peng, Chairman of SPI. "As Japan is a core PV market for SPI, we plan to further develop our presence and PV portfolio in this country."
About Solar Power, Inc. (OTCBB:SOPW):
SPI Solar ("SPI") (Solar Power, Inc.) is a vertically-integrated photovoltaic solar developer offering its own brand of high-quality, low-cost distributed generation and utility-scale solar energy facility development services. From project development, to project financing and to post-construction asset management, SPI delivers turnkey world-class photovoltaic solar energy facilities and turnkey residential solar solutions to its business, government and utility customers. For additional information visit: www.spisolar.com.
Featured Product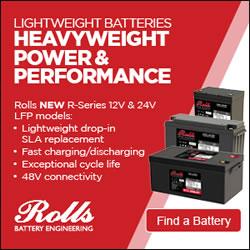 Rolls Battery has just introduced a new range of LFP lithium models. Available in 12V & 24V 50AH-300AH capacity options, the R-Series LFP lineup a lightweight, compact case design in four popular BCI case sizes (G24, G31, G49 & 8D), a customized BMS with added protections for safe & stable operation, improved cycle life (>6000 cycles @ 80% DOD) and up to 4x Series, 4x Parallel connectivity for 48V system configuration.