SolarReserve to speak on the integration of photovoltaic (PV) and advanced solar thermal (CSP) technology for cost-competitive 24/7 baseload power.
SANTA MONICA, California October 16, 2014

SolarReserve, a leading global developer of large-scale solar power projects and advanced solar thermal storage technology, will offer insights on the future of hybrid solar energy technology solutions to provide 24/7 power at INDIASOL 2014 taking place on 8-9 October in New Delhi.
On October 8th at 11:30 during the "Next Steps for India" Plenary Session, SolarReserve's Business Development Manager Jose Manuel Millan Parellada will take a technical look at delivering hybrid photovoltaic (PV) and solar thermal (CSP) with storage solutions that are cost competitive with conventional energy sources, and can offer a capacity factor of 80%-90% from solar energy alone, depending on the strength and consistency of the sunlight. For full 100% availability in off-grid scenarios, a relatively small amount of fossil fuel can be integrated into the system.
Mr. Parellada will discuss the potential to start with solar by integrating photovoltaics (PV) to reduce fuel use, incrementally reducing costs and exposure to volatile fuel prices. But the transformative change comes with the further integration of solar thermal with a large amount of storage to provide solar energy around the clock. PV integration is a good first step, but he believes ultimately the market leaders will move toward a more meaningful 24-hour solution that includes solar thermal with energy storage.
About SolarReserve
SolarReserve, LLC – headquartered in Santa Monica, California – is a leading developer of utility-scale solar power projects and advanced solar thermal technology with more than $1.8 billion of projects in construction and operation worldwide. SolarReserve has commercialized the world's leading solar thermal energy storage technology with the capability to deliver clean, reliable electricity "on demand" at any time, day and night, whether or not the sun is shining. This game changing technology enables the company's solar thermal (CSP) power plants to operate 24/7, providing a stable and predictable electricity product similar to that of conventional fossil fuel-burning power facilities, but without the associated harmful emissions and without any fuel costs.
SolarReserve's experienced team of power project professionals has assembled an extensive 5,000 MW worldwide development portfolio of large-scale solar projects. The company's balanced portfolio of power projects includes advanced solar thermal technology (CSP), photovoltaic (PV) technology, and hybrid (combined CSP and PV) solutions that can provide 24-hour solar energy that is cost competitive with conventional energy sources.
SolarReserve's 110 MW Crescent Dunes Solar Energy Plant located in Nevada is the first utility-scale facility in the world to feature advanced molten salt power tower energy storage capabilities. The project, currently in the commissioning phase, will generate more than 500,000 megawatt-hours per year and includes 10 hours of full-load energy storage. This annual output is more than twice that of other technologies per MW of capacity, such as photovoltaics (PV) or direct steam solar thermal. The storage technology also eliminates the need for any backup fossil fuels, such as natural gas, which are needed with other technologies to keep the system going during times of little or no solar resource. Nevada's largest electric utility, NV Energy, will purchase 100 percent of the electricity generated under a 25-year power purchase agreement.
The SolarReserve team is adept at developing large scale projects internationally including three PV projects, totaling 246 MW of generation capacity, in construction and operation in South Africa. The Lesedi and Letsatsi Projects, totaling 150 MW-DC of installed capacity, came on-line in May 2014 and are capable of powering more than 130,000 South African homes with clean energy. The projects were selected as the "African Renewable Energy Deal of the Year" by Project Finance Magazine in 2012. The 96 MW Jasper power project, slated for completion in 2014, is one of the largest solar installations on the continent.
Featured Product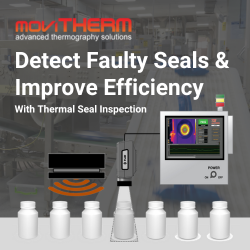 MoviTHERM's Thermal Seal Inspection (TSI) solution provides precise and reliable detection of defects in a variety of packaging types, including pouches, bags, blister packs, bottle caps, and more. By detecting defects in your packages, the TSI solution helps increase efficiency in your production line and ensures top-quality packaging is delivered to your customers every time. With state-of-the-art technology and an experienced team, MoviTHERM is dedicated to delivering accurate inspection solutions and peace of mind to its clients. Contact MoviTHERM today to learn more about their thermal seal inspection solution.