WRIGHTSVILLE BEACH, N.C., Oct. 17, 2014 -- In July 2014, notification was received from the US Patent and Trademark Office that two patent applications relating to new solar energy techniques had been allowed, and were in a state for formal issue.

The first patent, entitled "Solar Energy Conversion and Utilization System (Application no. 13/103,070), claims a new advantageous technique for converting DC power from solar cells to 120 volt AC house current for powering a home. The second patent, entitled "Potential Arc Fault Detection and Suppression" (Application no. 13/225,505), discloses and claims a simple method for detecting and mitigating wiring faults that meets National Electrical Code requirements.
Koolbridge Solar, Inc. has executed an agreement with the inventor, Dr. Paul Wilkinson Dent, to acquire all rights to the patents, which will be assigned to Koolbridge Solar in due course and implemented in Koolbridge products.
About Koolbridge Solar
Koolbridge Solar, Inc. is a "Smart Solar" company that designs and manufactures highly efficient, high-power, transformerless, sinewave DC to AC Inverters (1)and "Smart Load Centers" TM (2) that automatically select the use of utility power or solar power independently, for each of a number of load circuits based on the availability of: Utility and Solar Power, Preset User Priorities, Battery Charge Status, Time of Day, Instantaneous Consumption, Historical Consumption Patterns, and Weather Forecasts.
The Koolbridge Solar system for residential use is not totally independent of the grid, nor is it totally dependent on it. In the Koolbridge Solar system you have power from solar if the utility goes out and power from the utility if the sun is not shining. If you have both, power from the grid and power from solar, the Koolbridge Solar system preferential chooses free power from solar sources, thereby significantly reducing the electricity bill. The switching of circuits between utility and solar is accomplished automatically by the "SMART LOAD CENTER", which contains the control microcomputer.
Featured Product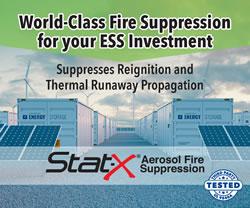 Stat-X® condensed aerosol fire suppression is a solution for energy storage systems (ESS) and battery energy storage systems (BESS) applications. Our Stat-X condensed aerosol fire extinguishing product was tested for efficacy in suppressing li-ion battery fires. It was found that the product successfully extinguished single and double cell battery fires. This testing was conducted in parallel with a large battery fire testing program on behalf of a large energy storage company.