Solar Power International, on October 20-23 in Las Vegas, Nevada
Burnaby, Canada, October 16, 2014 — Schneider Electric Solar Business, a global leader in solutions for solar power conversion chain, will be showcasing a suite of new products and solutions for PV power plants, commercial, residential and off-grid applications at Solar Power International, on October 20-23 in Las Vegas, Nevada.

Solar Power International is North America's premier educational conference and product exhibition bringing together more than 15,000 solar energy industry professionals from over 75 countries.
"We are excited to present new products to attendees of Solar Power International," said Serge Goldenberg, Senior Vice President of the Solar Business of Schneider Electric. "Schneider Electric is committed to providing customers with robust, long-term and highly reliable solutions, understanding the specific care and requirements needed in the PV industry".
Attendees of Solar Power International will get an opportunity to learn more about the following Schneider Electric products and solutions:
[NEW] PV Skid: Schneider Electric's optimized solar power conversion system for North America. The PV Skid solution is available in configurations ranging from 1MW to 2MW and incorporates the latest offering from Schneider Electric, including inverters, transformer, and DC combiner box.
Conext Core XC-NA: The Conext Core XC-NA central inverter designed for high efficiency and flexibility for any photovoltaic system installation that comes with an integrated DC combiner with a variety of fuse and monitoring options, and a next generation ground fault detection system which helps reduce hazards from PV array blind spots.
Conext Control monitoring and control system: A SCADA solution that integrates control, solar monitoring, and performance management features, the Context Control is designed to operate any site efficiently.
[NEW] Global Services Offer: Schneider Electric offers reliable service and support, with a global team of experts, backed by over 1 GW of service contracts and the largest track record of O&M service contracts in the industry.
[NEW] Conext CL: The Conext CL is anew line of three-phase string inverters designed for high efficiency, maximum flexibility, and easy installation and service. Its electrolyte-free design, coupled with Schneider Electric's rigorous test procedures improves the long term reliability of the inverter.
[NEW] Conext XW+: The Conext XW+ An adaptable single-phase and threephase system hybrid inverter with grid-tie functionality. It can be used for both DC and AC-coupled systems and is suitable for large hybrid applications up to 102kW.
Conext SW: The Conext SW is a hybrid inverter perfect for off-grid, backup power, and self-consumption applications available in 24VDC and 48VDC models.
[NEW] Conext Insight: Remote monitoring and asset management portal for battery-based installations and
decentralized PV plants using Conext systems.
Conext Combox: A powerful communications and monitoring device for installers and operators of Conext solar systems. The Conext ComBox features an integrated web server, enabling graphical displays of energy data to be viewed using a simple web browser or on Android tablet devices.
[NEW] Conext Smartbox: Monitoring and control solution for decentralized PV plants using Conext inverters.
A Trusted Partner
As an industry leader, the Solar Business of Schneider Electric is focused on designing and developing products and solutions for the solar power conversion chain, and providing best-in-class global customer services and technical support. As the solar market goes through a rapid wave of consolidations, Schneider Electric can offer assurance that spare parts, service, and technical support will be continually available over the 20+ year life of a
solar installation.
Win a prize at the Schneider Electric booth!
Schneider Electric will also be introducing a new interactive area in their booth where attendees can learn about offgrid, backup, and telecom applications by participating in fun games and challenges. Each day, prizes will be awarded to the top three scores. Visit the Schneider Electric booth to see how much you know about your off-grid
applications!
To learn more about Schneider Electric products and solutions, visit booth #1024 at Solar Power International or go to http://solar.schneider-electric.com.
Featured Product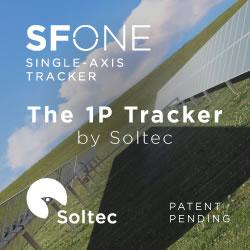 SFOne is the 1P single-axis tracker by Soltec. This tracker combines the mechanical simplicity with the extraordinary expertise of Soltec for more than 18 years. Specially designed for larger 72 an 78 cell modules, this tracker is self-powered thanks to its dedicated module, which results into a lower cost-operational power supply. The SFOne has a 5% less piles than standard competitor, what reduces a 75% the labor time.