Financing erases solar cost barrier
AUSTIN – Opportunities abound for residential solar companies if they offer homeowners solar panel installation for little or no money down and a low monthly fee. A national poll by EnviroMedia shows that a large majority of Americans are definitely or somewhat interested in new solar leasing programs offering just that kind of price structure.

"It's no surprise we found 70 percent of Americans perceived 'cost' was a barrier to installing solar panels," said EnviroMedia president and behavior change expert Kevin Tuerff. "Consumers are probably unaware of the plummeting cost of solar power, and most have never heard of solar leasing."
The new EnviroMedia poll shows 48 percent of American homeowners say they have not considered adding solar panels to their home to offset some of their electricity use.
But interest in a solar option spiked when respondents were educated about the benefits of a solar leasing program. About 67 percent said that they were very or somewhat interested in such a program.
Green Power Market Untapped By Utilities
The study also found that only 9 percent of respondents said they currently participate in a renewable energy or green power option with their electricity provider. But 69 percent said they might be interested.
"Americans need basic education about where their electricity comes from and how clean energy works," said Tuerff. "Unfortunately, only one-third of Americans said they definitely know the fuel source of their electricity, so we've got a ways to go."
EnviroMedia's poll was conducted online among 811 U.S. homeowners via QuickTake September 13-24. It has a margin of error of +/- 3.5 percent.
About EnviroMedia
Headquartered in Austin, EnviroMedia provides sustainability communications and consulting services to the world's most innovative agents of change. Areas of focus include air, water, energy, waste, and alternative transportation.
Featured Product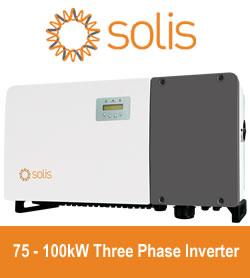 Solis75kW - 100kW series high-power string inverters are widely used in industrial and commercial rooftops. Solis's new three-phase string inverter is the first choice for industrial and commercial photovoltaics. 75-100kW three phase series string inverter have Maximum 28 strings input, support "Y" type connection in DC side. Maximum string input current 13A, support bifacial modules access.Supports anti-PID function to improve system efficiency.