WINAICO launches patented micro-crack preventing HeatCap technology, and the highest power density 300 W and 230 W mono crystalline PV modules at PV Taiwan 2014
Taipei, Taiwan, 22.10.2014 – WINAICO, Taiwan's largest PV module manufacturer, launches patented HeatCap technology at PV Taiwan 2014. HeatCap improves the reliability of silicon based solar cells, and protect them from micro-cracks induced by external stresses, such as handling errors and wind stresses. WINAICO's high efficiency module with HeatCap technology was recently awarded the Taiwan Excellent PV Award by the Bureau of Energy. Also on display at WINAICO's booth are the world's first PERC-based 300 W WSP-300M6 (60-cell) and 230 W WST-230M6 (48-cell) high efficiency modules. WINAICO's 280 W, WSP-280M6, all-black module demonstrates the perfect combination of high energy output and beautiful design, suitable for any Residential application without compromising the roof aesthetics.

WINAICO's internal evaluation showed evidences of HeatCap improving the ultimate stress a silicon solar cell can withstand before breaking up to 18.12%. WINAICO also worked with Taiwan's leading research institute, ITRI, to evaluate the reliability of HeatCap technology through Dynamic Mechanical Load (DML) and local hot spot tests. HeatCap and reference modules were put through DML tests of 1000 cycles each at 1000 Pa, 2000 Pa, 3000 Pa sequentially, and verified by electroluminescence (EL) pictures. Compared to the reference module, the HeatCap module had significantly less micro-cracks after each stage of DML tests. Local hot spot tests provided evidence of HeatCap's improvement in heat dissipation to reduce the solar cell temperature compared to reference cells. HeatCap can be used to solve the heating issue common to modules with black back sheets, and improve energy outputs of all-black modules in warmer environments.
"PV Taiwan is an opportunity to show the world the health and innovation of the Taiwanese solar industry. With the launch of the micro-crack preventing HeatCap technology, WINAICO continues to be a technology leader and differentiates our product offering with greater reliability to the end customers", said Davis Chen, Chairman and CEO of WINAICO. "The 300 W and 230 W modules on display reinforce WINAICO's position as a producer of PV modules with the best power density, and the leader in Residential solar solutions."
Featured Product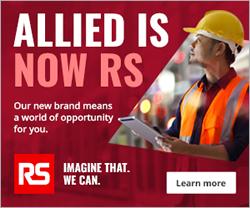 Imagine a global, end-to-end partner for industry - dedicated to solving your problems so you can drive your business forward. We can. On February 6, 2023, we officially changed our name to RS. It's just one way we're evolving to make our partnership and doing business with us even more rewarding. As RS, you have access to more support, more expertise, and more possibilities for your big and small projects - from concept and design to build and maintenance. Going forward, you'll see the RS logo on our website, social media, communications, and packaging. And rest assured, our current systems and procedures will remain intact to seamlessly process your order.