Supply deal to include new S Series Modules
SANTA CLARA, Calif.--Hanwha SolarOne Co. Ltd., a top-10 global photovoltaic manufacturer of high-quality, cost-competitive solar modules, has signed a deal with O2 Energies to supply 17 megawatts (MW) of solar photovoltaic (PV) modules for three solar projects in North Carolina. The supply deal will include Hanwha SolarOne's new S Series modules.

"Hanwha SolarOne is thrilled to have O2 Energies as a partner in North Carolina," said Steve Kang, president of Hanwha SolarOne USA. "We are focused on expanding our presence in new regions around the U.S. as we pursue growth in the North American utility sector."
The modules will be used at O2 Energies' Cirrus, Chocowinity and Rockwell solar plants. Construction has commenced on all three projects, which are scheduled to reach completion in December 2014. Hanwha SolarOne's modules are already being delivered to the three project sites.
"O2 Energies chose the new S series Hanwha module because of its anti-PID technology and 1000 Volt UL certification, which is important for the string inverter design of our Rockwell Solar project," said Olee Joel Olsen, president of O2 Energies. "Hanwha SolarOne is known for its quality and financial strength, making our investors comfortable with financing projects that use Hanwha SolarOne modules."
Hanwha SolarOne's new S Series modules feature a slimmer frame which reduces material and shipping costs, a four busbar design yielding more efficient energy production and industry leading weak light and high temperature performance.
All Hanwha SolarOne modules are backed by a 25-year linear power warranty and 12-year workmanship warranty, as well as Underwriters Laboratories (UL) certification.
About Hanwha SolarOne
Hanwha SolarOne Co., Ltd. (NASDAQ:HSOL) is one of the top 10 photovoltaic module manufacturers in the world, providing cost-competitive, high quality PV modules. It is a flagship company of Hanwha Group, one of the largest business enterprises in South Korea. Hanwha SolarOne serves the utility, commercial, government and residential markets through a growing network of third-party distributors, OEM manufacturers and system integrators. The company maintains a strong presence worldwide, with a global business network spanning Europe, North America, Asia, South America, Africa and the Middle East. As a responsible company committed to sustainability, Hanwha SolarOne is an active member of the PV Cycle take-back and recycling program. For more information, please visit: www.hanwha-solarone.com.
About O2 Energies
O2 energies, Inc. is an Independent Power Producer which has developed more than 80 MW of solar farms in the Southeastern part of the US. For more information visit our website at www.o2energies.com.
Featured Product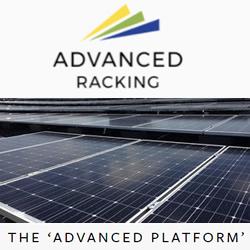 The 'Advanced Platform' simplifies the installation process by using universal mounting hardware that works perfectly across all roof types. Smart roof connection kits then connect to the specific roof's surface. The Advanced Platform is versatile: Our common design can be your single solution for all roof types.