New modules available immediately to customers worldwide; first shipments already delivered to North America
Solar Power International 2014

LAS VEGAS--Hanwha SolarOne, a top-10 global photovoltaic (PV) manufacturer of high-quality, cost-competitive solar modules, today introduced the new S Series PV modules at Solar Power International. The new modules are available immediately to customers worldwide. Hanwha SolarOne is already shipping them to customers in North America. The new S modules feature significant improvements in cost, performance and quality, and are available in both 60 and 72 cell models.
"The new S Series solar modules are a perfect melding of South Korean quality with Chinese cost efficiencies," said Mr. Seong-woo Nam, chief executive officer of Hanwha SolarOne. "The slimmer frame will offer real savings in material and shipping costs, while the improved performance and overall quality offer great value and return on investment."
Cost
The slimmer frame of the new modules significantly reduces material and shipping costs. The HSL 60S module's 32 millimeter frame is 20 percent slimmer than previous generations, while the HSL 72S module's 40 millimeter frame is 11 percent slimmer. Despite the slimmer frame, both modules maintain rating for snow loads of 5400Pa and wind loads of 4000Pa.
Performance
The biggest technological advancement in the new module is a four busbar cell architecture. Moving from a three to four busbar design results in shorter current distance and less resistance loss within each cell, yielding greater energy efficiency and higher module power output.
The new modules also boast industry leading performance of two important features: temperature coefficient and weak light performance. The improved temperature coefficient reduces efficiency loss in high temperature climates, improving from -.43 percent to -.41 percent in the S Series. The weak light performance improves from 96 to 97 percent, which translates into more energy on a cloudy day.
Quality
The S Series is a new frontier in quality and reliability for Hanwha SolarOne. The new modules will be produced entirely on automated lines, ensuring consistent and uniform quality. The advancement in quality is underscored by an increase in the first year power guarantee of the linear power warranty on the S Series modules to 97.5 percent, with an overall increase of 2 percent over the 25 year life of the warranty.
Hanwha SolarOne will exhibit the new modules at Solar Power International taking place in Las Vegas, Nevada, Oct. 21-23, booth #1326.
About Hanwha SolarOne
Hanwha SolarOne Co., Ltd. (NASDAQ:HSOL) is one of the top 10 photovoltaic module manufacturers in the world, providing cost-competitive, high quality PV modules. It is a flagship company of the Hanwha Group, a Fortune Global 500 business group in South Korea. Hanwha SolarOne serves the utility, commercial, government and residential markets through a growing network of third-party distributors, OEM manufacturers and system integrators. The company maintains a strong presence worldwide, with a global business network spanning Europe, North America, Asia, South America, Africa and the Middle East. As a responsible company committed to sustainability, Hanwha SolarOne is an active member of the PV Cycle take-back and recycling program. For more information, please visit www.hanwha-solarone.com.
Featured Product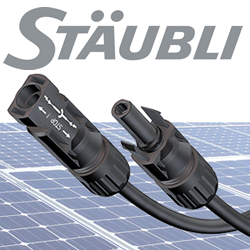 ​Stäubli Electrical Connectors are used on more than 300 GW, over 50% of the PV capacity worldwide. The MC4 family of UL and TUV listed products include connectors, in-line fuses, branch connectors, cable assembly and more.