Certificate marks new age of risk reduction, quality and safety for solar plant assets ---- "Plant-level" bankability certification reduces risk for PV power plant investors ---- 50 MW thin film PV power plant in New Mexico is first to meet extensive safety and performance requirements of VDE and Fraunhofer ISE
LAS VEGAS, Oct. 22, 2014 -- SOLAR POWER INTERNATIONAL -- Today VDE Testing and Certification Institute (VDE), a globally recognized premium certification body, in conjunction with partner Fraunhofer ISE, a world leading applied solar research institute, announced the issuance of VDE Quality Tested (QT) Certification to First Solar, Inc. for its design, engineering and construction of the Macho Springs 50MW (AC) power plant located in Luna County, New Mexico. The plant, which went into commercial operation in May of 2014, utilizes First Solar's thin film module and balance of system technology. A first for the industry, the successful QT certification of the complete PV plant marks the implementation of a strategic alliance to enhance technical bankability.

"The VDE Quality Tested Certification sets First Solar apart, as they have now passed the most rigorous quality assurance requirements at the PV plant/system level, thereby assuring a significant reduction of technical risk for the financial performance of First Solar systems. Certification of the Macho Springs facility documents that First Solar leads the industry in technical bankability at the PV power plant/system level," said John Sedgwick, President VDE Americas.
"First Solar is committed to providing the highest quality and the lowest risk products and systems in the solar industry. We have implemented rigorous, world-class quality assurance processes throughout our operations," said Azmat Siddiqi, Senior Vice President Quality & Reliability at First Solar. "We are honored to be recognized by VDE for our relentless pursuit of high performance products and installed systems."
Holistic PV Plant Certification Heralds New Age of Risk Reduction, Quality and Safety
For years, certification of PV plant sub components according to international standards (such as IEC standards for PV modules and inverters) has been the basis for establishing technical bankability of PV plants. Leading the industry, the VDE QT Certification of Macho Springs verifies the plant as a bankable solar asset and affirms that independent experts have validated every step from initial design through to installation and operation.
"With the VDE Quality Tested certificate, VDE and Fraunhofer ISE strive to set a new benchmark in the global industry for PV power plant quality and reliability assurance, leading to greater risk reduction. We verify not only the quality of individual plant components, but also the safety and performance of the overall system," said Burkhard Holder, Head of Energy and Smart Technologies at VDE Institute Germany. "Such a comprehensive approach, including both field and lab testing, leads to a significantly higher level of technical bankability and risk reduction for PV power plant investors and financial entities."
Highlighting the stringent, comprehensive level of quality assurance that the VDE QT Certification signifies, it was designed to deliver significant advantages in four key areas: electrical and mechanical safety of the system; system performance - through a highly accurate energy yield report; proper system operation; and independent verification for investors, lenders, insurance companies and other stakeholders. The VDE QT Certification is composed of comprehensive design review, sophisticated modeling and more than 300 testing points which must be passed in order to achieve the VDE Quality Tested Mark of certification.
"Independent quality Assurance for PV systems has played an important role ever since the earliest days of PV deployment," commented Klaus Kiefer, Head of Quality Assurance PV Modules and Power Plants at Fraunhofer ISE. "We are very pleased to add our long-term expertise in precise performance evaluation as an integral part of the VDE QT certification. Our team worked closely with both VDE and First Solar staff to apply our experience and knowledge to assure the maximum quality and performance at the Macho Springs facility."
"This certification brings more than 30 years and 38GW of German PV experience to the US for the highest level of quality and superior confidence that the asset will provide long term financial returns," according to Mr. Sedgwick. "The awarding of VDE QT Certification to the Macho Springs facility highlights the importance of professional certification procedures to ensure the highest plant quality and technical bankability. The Macho Springs plant represents the caliber of asset that the industry has been working towards—an independently-verified high quality PV plant that is providing power at prices competitive with traditional non-renewable base load power."
About VDE Americas
VDE Americas is a wholly owned subsidiary of the VDE Testing and Certification Institute, Germany. The new subsidiary is located in Silicon Valley and will service VDE markets and customers in North, South and Latin America. VDE Americas is staffed by highly experienced solar industry professionals. The subsidiary will serve as the hub for initial sales, marketing and technical service provision into the Americas regions.
About VDE Institute
The VDE Testing and Certification Institute is a significant part of the VDE Association for Electrical, Electronic and Information Technology, which is one of the largest technical and scientific associations in Europe with more than 35,000 members. The VDE Institute is an independent institution which is responsible for testing and certifying the safety and performance of electronic devices, components and systems for the consumer and the general public using the highest standards of quality. Cooperation agreements in more than 50 countries ensure that the inspections of the VDE Institute are internationally recognized. Millions of electrical products worldwide carry VDE certification marks. www.vde.com
About Fraunhofer ISE
With a staff of 1300, the Fraunhofer Institute for Solar Energy Systems ISE is the largest solar energy research institute in Europe. Fraunhofer ISE is committed to promoting energy supply systems which are sustainable, economic, safe and socially just, thereby advancing the transformation of our energy system and the shift to renewables. To this end, the institute develops materials, components, systems and processes for energy efficiency, energy conversion, energy distribution and energy storage. Fraunhofer ISE has a wide range of expertise and many years of experience in the fields of energy efficient buildings, photovoltaics, solar thermal technology, hydrogen and fuel cell technology as well as smart grids and power electronics through to sustainable mobility and storage technologies. Energy system analyses and accredited test centers complete the range of services for the energy sector. www.ise.fraunhofer.de
About First Solar, Inc.
First Solar is a leading global provider of comprehensive photovoltaic (PV) solar systems which use its advanced module and system technology. The company's integrated power plant solutions deliver an economically attractive alternative to fossil-fuel electricity generation today. From raw material sourcing through end-of-life module recycling, First Solar's renewable energy systems protect and enhance the environment. www.firstsolar.com
Featured Product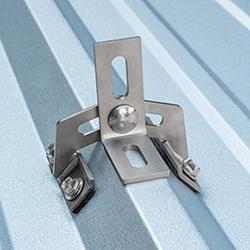 Explore new lines of income for your solar installation business with QuickBOLT's Stone Coated Steel roof mounts designed in partnership with metal roof manufacturers themselves. These SCS roof mounts work on all metal tile profiles and will help you bring in money you're missing out on. By not driving into the roofing material, QuickBOLT's Stone Coated Steel roof hooks maintain the integrity of the roof. Install with ease and confidence knowing your roof is protected against the harsh elements that these hooks are designed for.