Industry-changing INVELOX provides green energy option for manufacturing businesses.
MINNEAPOLIS, Oct. 21, 2014 -- SheerWind, a wind energy technology company, is pleased to begin a preliminary assessment to determine the power capacity of their INVELOX wind-power generation system for a Midwest food processing plant. Following the assessment phase, SheerWind plans to propose a 15 to 25 MW INVELOX wind-power plant installation at the facility. Each INVELOX wind tower can produce power with up to three turbines. Interest in SheerWind's technology includes lowering energy costs while reducing carbon footprint and impact on the environment.

SheerWind's INVELOX technology provides high-performance, cost-efficient wind energy:
*Ground-based turbines reduce operating and maintenance costs
*Increased capacity factor to a record 60-90%
*Multiple turbines in a single tower
*Cost competitive with fossil fuel
*Safe production close to end-user
*No harm to animals or flying friends
"The potential is very exciting for SheerWind. We see this as the beginning of a great partnership with a company that is committed to providing food globally while reducing its carbon footprint," said Steve Hill, COO of SheerWind. "This partnership assists SheerWind's mission to provide sustainable, affordable, electrical energy to anyone—anywhere."
About SheerWind: Founded in 2010 in Chaska, Minnesota, SheerWind is changing the course of power generation. Its patented INVELOX wind funnel technology brings energy production to ground level. By capturing, accelerating, and concentrating wind energy, ultimately reducing costs, while solving major problems that have plagued the industry, including low turbine reliability, intermittency issues, and environmental impacts. SheerWind is poised to turn wind power into a major power source for the globe. For more see: SheerWind or SW facebook
Featured Product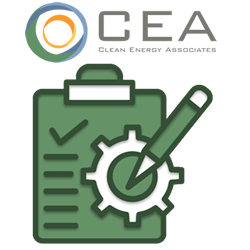 Clean Energy Associates provides a complete quality assurance solution that covers the entire product lifecycle of PV modules, storage systems, and every Balance of Sy stem (BOS) component. CEA's experienced on-the-ground and international team of quality control engineers and account managers offer an unparalleled quality assurance presence that can protect solar and storage investments and ensure future energy-producing viability for the life of the product.