The rooftop installation will produce 20% of Mandalay Bay's power demand at peak production.
ALBUQUERQUE, N.M., Oct. 23, 2014 -- Unirac, Inc., a Hilti Group Company and leading provider of high quality, competitive PV mounting solutions in North America, has been selected by NRG Energy to provide a 6.4 MW DC Roof Mount (RM) for installation on the Mandalay Bay Resort and Casino Convention Center in Las Vegas, Nevada. Mandalay Bay, owned and operated by MGM Resorts International, is MGM Resorts' first commercial solar project in the United States.

MGM Resorts selected the Mandalay Bay Resort & Casino Convention Center because of its large south facing rooftop space with roughly 20 acres of optimal surface for solar power production. The completion of the project was announced today, and the rooftop installation will produce 20% of Mandalay Bay's power demand at peak production.
"When designing one of the largest contiguous rooftop solar installations in the world, racking performance, site logistics and project planning are extremely important," said Todd Kerschbaum, CEO at Sunora Energy Solutions, the firm responsible for installation. "Unirac's performance on this project was exemplified by their commitment to delivering products on time, while maximizing our field productivity through efficient product design."
ROOF MOUNT introduces the Power of Simplicity to the ballasted, flat roof solar industry. The system consists of only two major components, minimizing preparation work and installation time. RM allows installers to seamlessly design around roof obstacles, support most framed modules and bond the system with just the turn of a wrench.
"Our mission is to deliver high-quality solar solutions at the lowest total installed cost, RM is no exception," said Michael Kennedy, Unirac Vice President of Sales and Marketing. "We are excited to expand our partnership with Sunora and NRG on another high profile project such as Mandalay Bay."
Featured Product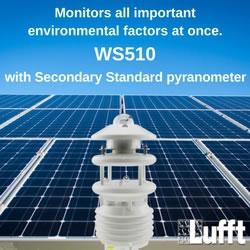 Professional weather sensors form the heart of large solar plants supporting their operation and performance. Lufft was the first manufacturer to combine several sensors in one housing, bringing the largest multiparameter weather sensor family with 19 members into being. Many of them are well-suited for solar site assessment and continuous monitoring. The most commonly used one is the WS600 delivering data on temperature, air pressure, wind, relative humidity and precipitation. Through its open protocol, it can easily be attached to radiation sensors e.g. from Kipp&Zonen. Other models have an integrated Silicon, Second Class or Secondary Standard radiation sensor.