Clean electricity for more than 100,000 households in Ontario ---- Total of 137 wind turbines to start operation by end of 2015 ---- Local manufacturing of more than 400 blades
Siemens' Wind Power and Renewables Division has received two new orders for onshore wind projects in Ontario, Canada. The contracts include the supply, installation and commissioning of a total of 137 wind turbines rated at 2.3 megawatts (MW). Of those, Siemens will supply 91 units of its SWT-2.3-101 turbines to Samsung Renewable Energy Inc.'s and Pattern Energy Group LP's (Pattern Development) 180-MW Armow Wind project. The G2 geared turbines are equipped with 101-meter rotors. Suncor Energy Inc. ordered 46 D3 direct drive wind turbines for the 100-MW Cedar Point II wind project. The SWT-2.3-113 turbines have a rotor diameter of 113 meters.

Together both wind power projects will generate clean power for more than 100,000 Ontario homes. All 411 blades will be manufactured at the Siemens blade facility in Tillsonburg, Ontario. The Armow Wind project will feature 273 blades with a length of 49 meters while Cedar Point II will use 138 blades of 55 meters each. The towers for the projects will be manufactured in a local facility using steel made in Canada. Construction of the Armow project is now underway with commercial operation expected by the end of 2015. The Armow Wind project will be located close to the shore of Lake Huron, more than 220 kilometers northwest of the city of Toronto in the province of Ontario, Canada. The wind turbines for Cedar Point II will be installed in Sarnia, Ontario, approximately 100 kilometers north of the U.S. city of Detroit. The project is scheduled to start commercial operation in late 2015.
"The two orders further demonstrate that Canada is one of our most important wind markets in the Americas region," says Markus Tacke, CEO of Siemens' Wind Power and Renewables Division. "Ontario's continuous commitment to innovation and sustainable energy management has contributed to local economic growth and viable, affordable and sustainable wind energy for Canadians."
As Canada faces increasing environmental and economic challenges, Siemens is making great strides towards a sustainable energy future by providing efficient, affordable and clean power. The wind projects demonstrated the success of the Green Energy Act as part of the Province's commitment to economic growth and environmental sustainability.
Featured Product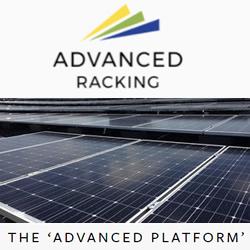 The 'Advanced Platform' simplifies the installation process by using universal mounting hardware that works perfectly across all roof types. Smart roof connection kits then connect to the specific roof's surface. The Advanced Platform is versatile: Our common design can be your single solution for all roof types.