The 2015 First Wind Scholars program will offer 16 one-time scholarships of $3,000 and one renewable $5,000 scholarship to high school seniors residing in host communities
BOSTON--First Wind, an independent U.S.-based renewable energy company, announced today that applications are now open and available online for its annual 2015 scholarship program. First Wind Scholars, now in its sixth year, offers scholarships to qualified high school seniors in communities where the company operates.

As part of the 2015 First Wind Scholars program, students within host communities in Hawaii, Maine, Massachusetts, New York, Utah, Vermont and Washington will be granted 16 one-time awards of $3,000. The company will also award one scholarship of $5,000, renewable for up to four years, to the year's single most qualified applicant. Qualified students enrolling in full-time degree programs with an interest in science, technology and/or the environment are invited to apply.
"We are excited to open the application process for the sixth year of our First Wind Scholars program," said Carol Grant, Senior Vice President of External Affairs at First Wind. "We started the scholarship program as a way to support future generations interested in clean energy and make a commitment to our project host communities. Since we started the program, we've given more than $300,000 in scholarships going to a total of 77 students throughout the Northeast, West and Hawaii. We're proud to offer the program once again."
Eligible students must have a GPA of at least 2.75 and must plan to enroll in full-time undergraduate study with a focus in the sciences, technology and/or engineering. Applications were open and available online as of November 1, 2014 with all submissions due by January 6, 2015. Applications are evaluated on a number of factors, including academic performance, work experience, school and community activities, as well as a 300-word essay. The First Wind Scholars recipients will be announced in April 2015.
High school seniors who attend a public or private high school near the following First Wind projects, whether operational or in an advanced stage of development, are eligible to apply. (Communities in parentheses are those with high schools where students are eligible for the scholarship.)
Hawaii
*Kaheawa Wind I & II (Kahului, Kihei and Wailuku, Maui)
*Kahuku Wind (Laie and Kahuku, Oahu)
*Kawailoa Wind (Wahiawa, Waialua, Haleiwa and Sunset, Oahu)
Maine
*Bull Hill Wind (Eastbrook, Ellsworth, Hancock and Sullivan)
*Mars Hill Wind (Mars Hill)
*Oakfield Wind (Dyer Brook and Oakfield)
*Rollins Wind (Burlington, Lincoln, Lee, Mattawamkeag and Winn)
*Stetson Wind I & II (Danforth and surrounding communities)
Massachusetts
*First Wind's Headquarters (John D. O'Bryant School of Math and Science and Boston Green Academy, both in Boston)
*Warren Solar Project (Quaboag Regional High School and Tantasqua Regional Technical High School)
New York
*Cohocton Wind (Cohocton)
*Steel Winds I & II (Lackawanna and Hamburg)
Utah
*Milford Wind I & II (Beaver and Millard Counties)
Vermont
*Sheffield Wind (Sheffield, Barton and surrounding communities)*
* Note: this year's program has added Craftsbury Academy whose seniors are now eligible to submit an application
Washington
*Palouse Wind (Garfield, Oakesdale, Rosalia, Saint John, Spangle and Tekoa)
Since 2009, First Wind has issued 72 one-year, $3,000 scholarships to college-bound students from project communities who plan to study science, technology and/or the environment. Additionally, First Wind has granted five four-year, $20,000 scholarships to select students from each applicant pool. The program and selection of recipients is administered by Scholarship Management Services, a leading designer and manager of scholarship and tuition reimbursement programs for corporations and other institutions. The First Wind Scholars program has grown each year and scholarships totaling more than $300,000 have been awarded.
For more information, or for eligible students to fill out an e-application, please visit http://www.firstwind.com/firstwindscholars.
About First Wind
First Wind is an independent renewable energy company exclusively focused on the development, financing, construction, ownership and operation of utility-scale renewable energy projects in the United States. Based in Boston, First Wind is operating or building renewable energy projects in the Northeast, the West and Hawaii, with combined capacity of nearly 1,300 megawatts (MW) – enough to power more than 375,000 homes each year. For more information on First Wind, please visit www.firstwind.com or follow us on Twitter @FirstWind.
Featured Product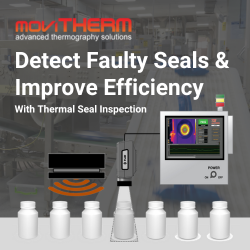 MoviTHERM's Thermal Seal Inspection (TSI) solution provides precise and reliable detection of defects in a variety of packaging types, including pouches, bags, blister packs, bottle caps, and more. By detecting defects in your packages, the TSI solution helps increase efficiency in your production line and ensures top-quality packaging is delivered to your customers every time. With state-of-the-art technology and an experienced team, MoviTHERM is dedicated to delivering accurate inspection solutions and peace of mind to its clients. Contact MoviTHERM today to learn more about their thermal seal inspection solution.