This is the first time in two years that Andalay Solar has hosted a booth at SPI.
SAN JOSE, Calif., Nov. 3, 2014 -- Andalay Solar (OTCQB: WEST), a leading designer of integrated solar power systems, displayed three different products at Solar Power International 2014 ("SPI") in Las Vegas, NV. In addition to the Company's own booth, its products were exhibited in the booths of two separate tier-one module manufacturers. Andalay displayed both its core AC module product as well as two new products: a DC module with an integrated jumper cable and a smart DC module with a DC optimizer integrated into the j-box, a feature which continues the company's tradition of developing solutions which simplify the labor and reduce the balance of systems parts required for solar installs. Each of these products incorporate Andalay's core innovative plug and play technology with integrated wire management and low profile, rail-less mounting hardware.

This is the first time in two years that Andalay Solar has hosted a booth at SPI. The company received positive customer feedback regarding its new strategy of partnering with tier-one module manufacturers to license Andalay's patented technology, thereby broadening the availability of Andalay-based solutions in the marketplace. As a result, Andalay Solar has a number of new prospective customers within the top 20 largest installation companies in the United States who are undergoing technical review and evaluation of its plug and play solar solution.
"Having joined the company six months ago and re-launching various parts of our business, I am excited to see the positive market feedback at an important show like SPI. This is a strong step forward in a bold new direction for Andalay Solar," said Steve Chan, Andalay Solar's CEO and President. "We are working hard to expand our partners to adopt our industry leading patented technology with superior aesthetics, labor savings and much reduced maintenance issues."
About Andalay Solar: (OTCQB:WEST)
Founded in 2001, the Company is a designer and manufacturer of integrated solar power systems. The Company has been a pioneer in the concept of integrating the racking, wiring and grounding directly into a solar panel. The Company's AC solar panel reduces the number of components for a rooftop solar installation by approximately 80% and lowers labor costs by approximately 50%. This AC panel, which won the 2009 Popular Mechanics Breakthrough Award, has become the industry's most widely installed AC solar panel. The Company currently sells its new generation "Instant Connect®" products in both AC and DC format which provide the best combination of safety, performance and reliability. For more information on the Company, visit www.andalaysolar.com.
Featured Product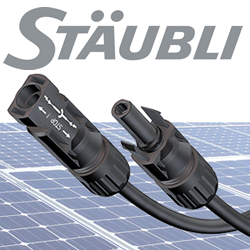 ​Stäubli Electrical Connectors are used on more than 300 GW, over 50% of the PV capacity worldwide. The MC4 family of UL and TUV listed products include connectors, in-line fuses, branch connectors, cable assembly and more.