Company Expands Scope of its GenKey Product to Stationary Fuel Cell Applications Using ReliOn Fuel Cells
LATHAM, N.Y. – November 11, 2014 – Plug Power Inc. (NASDAQ: PLUG), a leader in providing clean, reliable energy products, has restructured its' brands, presenting the ReliOn division, a Plug Power company, under the larger powerhouse umbrella of Plug Power Inc. Plug Power acquired the Spokane, WA, corporation in April 2014, adding a talented employee base, valuable fuel cell stack technology and a stationary power fuel cell product offering to its portfolio.

"Pulling the two groups together is a natural evolution for Plug Power as we grow and scale our business," said Andy Marsh, CEO at Plug Power Inc. "We've operated as one company since April, and now it's time we all share the same identity as Plug Power."
With this realignment, the ReliOn name will represent the product brand of Plug Power's stationary power product line. Plug Power's ReliOn fuel cell product is designed for the backup and grid-support power requirements of the telecommunications, transportation, utility and government sectors. For applications from under 50W to 20kW, Plug Power's ReliOn solution replaces the majority of backup batteries and mitigates the need for backup generators.
The ReliOn system is currently sold to customers in the United States, Europe, South America, Australia, Africa and Asia. Sales of the Plug Power ReliOn product will remain out of the Spokane, WA, office and will continue internationally.
GenKey Now Available for Stationary Fuel Cell Market
With the addition of the ReliOn product, the company can bring its turnkey GenKey solution to customers in the stationary fuel cell market, serving telecommunications, grid support, utility and government applications. GenKey combines the ReliOn fuel cells with GenFuel fueling and infrastructure and GenCare ongoing customer support. The availability of GenKey removes the significant hurdle of extensive project management of multiple vendors to adopt hydrogen fuel in these markets.
The GenKey model was successfully launched by Plug Power to material handling customers in January 2014 with GenDrive, a fuel cell system used to power electric lift trucks, as the power solution. Plug Power currently has 11 GenKey site contracts with material handling customers, and expects to see similar adoption from stationary power customers with the ReliOn combination.
About Plug Power Inc.
The powerhouse in hydrogen fuel cell technology, Plug Power is revolutionizing the industry with cost-effective solutions that increase productivity, lower operating costs and reduce carbon footprint. Its signature solution, GenKey, provides an all-inclusive package for customers, incorporating GenFuel hydrogen and fueling infrastructure, GenCare aftermarket service and either GenDrive or ReliOn fuel cell systems. GenDrive, a lead-acid battery replacement, is used in electric lift trucks in high-throughput material handling applications. With more than 6,000 GenDrive units deployed to material handling customers, GenDrive has been proven reliable with over 25 million hours of runtime. And, ReliOn is Plug Power's modular, scalable fuel cell for customers seeking solutions in critical stationary power applications. Plug Power ReliOn customers have installed fuel cells at more than 2,000 customer locations globally. Plug Power manufactures tomorrow's incumbent power solutions today, so customers can POWERAhead. Additional information about the Plug Power brands is available at www.plugpower.com.
Featured Product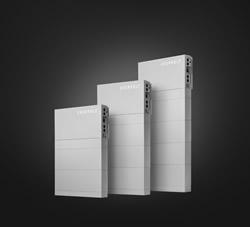 Offer homeowners best-in-class solar and energy storage in one money-saving bundle. Panasonic's new EverVolt™ Series modules come in 350W, 360W, 370W & 380W models and work seamlessly with their EverVolt battery storage - all warrantied by one of America's most trusted brands.