Biomass feedstock industry leader makes Biofuels Digest's 2014-15 list of the hottest small companies in the advanced bioeconomy for the first time
VONORE, Tenn. Nov. 11, 2014 – Genera Energy Inc., a recognized leader in biomass feedstock innovation and supply chain advancements, has been named one of the Hot 40 small companies in the advanced bioeconomy in 2014 by Biofuels Digest.

The annual Biofuels Digest Hot 40 rankings are determined by weighted votes, with 50 percent based on votes received from the invited panel of selectors, and 50 percent based on votes received from registered subscribers to the digest over a three week span.
"We strive to be leaders in the bioenergy sector and to find new and innovative ways to create a more sustainable future through biomass feedstocks," said Kelly Tiller, President and CEO of Genera Energy. "Our clients and vendor partners have been huge contributors to our success. We are passionate about what we do, and this recognition reaffirms that we are doing great things for our clients and the future of the bioeconomy."
Genera Energy is ranked number 22 on the Hot 40 list, and this is the first time that it has been recognized on one of Biofuels Digest's Hot Lists. This recognition signifies Genera Energy's excellence in biomass supply chain management and its growing impact on the industry and the future of the bioenergy and bioproducts industries.
"This accolade is a motivator for our company to continue to push the limits of biomass feedstock," said Sam Jackson, vice president of business development at Genera Energy. "This recognition isn't just for us, it's for our clients too. They are the reason we are able to continue to grow, and we're excited about what this means for our future."
For more information on Biofuels Digest' Hot Lists, visit http://www.biofuelsdigest.com/bdigest/2014/08/28/hot-30-hot-40-hot-50-voting-opens/.
About Biofuels Digest
Biofuels Digest is the world's most widely read biofuels daily. The Miami, FL-based online magazine and email newsletter published more than 4,000 news stories on bioenergy in 2012, and serves 133,000+ newsletter, website readers and social media followers in every UN-recognized country. For more information, visit http://www.biofuelsdigest.com.
About Genera Energy, Inc.
Genera Energy Inc. supplies biomass feedstocks for the advanced biofuels, biopower, and biochemical industries, offering customized biomass supply solutions ranging from full service energy crop production and turnkey supply chains to managing biomass supply as a service. Genera's proprietary Supply ASSURE feedstock management system and its BIN-SPEC material handling and milling system offer Genera's customers maximum feedstock reliability and quality while minimizing variability and cost. Based in Vonore, Tenn., Genera operates the country's largest and most comprehensive industrial biomass management and processing facility. Focus on innovation and sustainability in delivering industrial biomass supply systems has earned Genera the World's Biofuels Market's prestigious 2013 Sustainable Feedstock Innovation Award. For more information, visit http://www.generaenergy.com.
Featured Product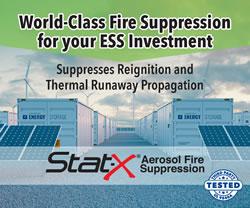 Stat-X® condensed aerosol fire suppression is a solution for energy storage systems (ESS) and battery energy storage systems (BESS) applications. Our Stat-X condensed aerosol fire extinguishing product was tested for efficacy in suppressing li-ion battery fires. It was found that the product successfully extinguished single and double cell battery fires. This testing was conducted in parallel with a large battery fire testing program on behalf of a large energy storage company.