In deal, companies will share market channels and develop products together
HILLSBORO, Ore., and PETALUMA, Calif., Nov. 19, 2014 – SolarWorld and Enphase Energy (NASDAQ: ENPH) announced today that they have signed a global strategic partnership agreement. Enphase is the world's largest provider of microinverters, devices that convert direct electrical current to alternating current to enable most applications of solar electric power.

SolarWorld, the largest U.S. solar producer for nearly 40 years, has formalized Enphase as its supplier of microinverter systems for SolarWorld's custom-engineered system solutions in the U.S. market as well as expanded this partnership across both companies' worldwide distribution networks. The two companies also have agreed to engage in close collaboration in developing new solar technologies and products.
"The global partnership between SolarWorld and Enphase – two companies renowned for quality, reliability and technological advancement – is more than a supply agreement," said Mukesh Dulani, U.S. president of SolarWorld. "It is a true collaboration between industry leaders that will expand global solar markets and spur development of new solar technologies."
"Enphase has worked closely with SolarWorld for several years, and the companies have built a strong, growing business together in collaboration with SolarWorld's extensive U.S. channels," said Jeff Loebbaka, Enphase's senior vice president of global sales, marketing and support. "This new agreement promises to open new regional market and product opportunities around the world for both companies."
SolarWorld REAL VALUE: SolarWorld manufactures and sells solar power solutions and in doing so contributes to a cleaner energy supply worldwide. As the largest solar producer in the United States and Europe, SolarWorld employs about 3,400 people and carries out production in Hillsboro, Ore., and Freiberg and Arnstadt, Germany. From the raw material silicon to solar wafers, cells and panels, SolarWorld manages all stages of production ‒ including its own research and development. The company maintains high social standards at all locations across the globe and is committed to resource- and energy-efficient production. Headquartered in Bonn, Germany, SolarWorld was founded in 1998 and its stock has been publicly traded since 1999. Connect with SolarWorld on Facebook, Twitter and www.solarworld-usa.com.
About Enphase Energy, Inc.: Enphase Energy (NASDAQ: ENPH) delivers microinverter technology for the solar industry that increases energy production, simplifies design and installation, improves system uptime and reliability, reduces fire safety risk and provides a platform for intelligent energy management. Its semiconductor-based microinverter system converts energy at the individual solar module level and brings a systems-based, high-technology approach to solar energy generation. Connect with Enphase on Facebook, Twitter and www.enphase.com
Featured Product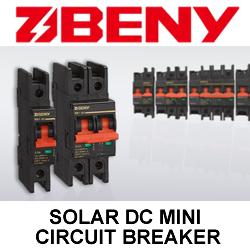 The BB1-63 modular miniature circuit-breakers can be used in solar DC circuits up to 1200 VDC (4-poles execution). Application in solar DC circuits, battery energy storage systems and UPS. Arc flash barrier design keeps solar equipment more safe and reliable. For DC circuit over-current protection.