Project marks first European testing of Eos' novel Znyth battery technology, with plans for deployment in major European markets
NEW YORK--Eos Energy Storage today announced that European energy giant GDF SUEZ (EPA: GSZ) has purchased Eos's safe, low-cost zinc hybrid cathode (Znyth) battery system. The sale marks the next phase in Eos's pilot demonstration program, after 3rd-party testing with DNV GL, and sets the stage for commercial deployment in major European markets.

"We are delighted to have GDF SUEZ as our first international customer and as a leading participant in our Genesis program," said Eos President Steve Hellman. "GDF SUEZ is one of the largest power producers in the world with operations in 70 countries, a leader in the growing renewable energy industry, and an unmatched innovator in energy technology. We couldn't ask for a better partner to support our first European testing program and broader global deployment of the Eos product."
GDF SUEZ will install and test the Eos battery system at their new "GDF SUEZ Batteries Lab" at Laborelec, in Linkebeek, Belgium. Laborelec, part of the GDF SUEZ Research & Technologies Division, is a leading research and competence center in electrical power technology. Its competences cover the entire electricity value chain: generation, transmission, distribution, storage and end-use.
The "GDF SUEZ Batteries Lab," created in June 2014, aims at developing the capability to anticipate the evolutions of battery technologies in terms of cost and performance. It will evaluate the performance of the Eos system under a range of applications—including facility energy management, integration of distributed solar photovoltaics, participation in grid balancing markets and energy arbitrage in wholesale markets.
"We are looking forward to testing Eos's Aurora system—which shows promise of being amongst the lowest cost energy storage solutions on the market," said Raphaël Schoentgen, Director of Research & Technologies, Member of the Executive Committee of GDF SUEZ. "Rigorous testing and evaluation of Eos's technology will allow us to characterize performance and focus on best-fit applications of highest profitability in European retail and wholesale energy markets."
"Deploying our battery with GDF SUEZ is an important step in commercializing our Aurora battery system," said Eos CEO Michael Oster. "We are now ramping up manufacturing and will supply batteries at a price that makes electricity storage an economic alternative to today's gas peaking turbines."
Eos's grid storage product, the Aurora, is a containerized MW-scale DC battery system designed to more reliably integrate renewable energy, improve grid efficiency and resiliency, and reduce utility costs and consumer electric bills. Eos plans to sell the Aurora DC battery system for $160 per kWh, and will work with major power controls and integration partners to sell, install, and service turn-key AC-integrated battery systems.
GDF SUEZ joins some of the industry's largest and most sophisticated energy companies—including NRG (NYSE: NRG), Con Edison (NYSE: ED), National Grid (LON: NG), Enel (BIT: ENEL), American Electric Power (NYSE: AEP) and Public Service Company of New Mexico (NYSE: PNM)—as a participant in Eos's Genesis program, a collaborative effort designed to optimize, demonstrate, and deploy Eos's Aurora energy storage system. Collectively, the Eos Genesis partners represent over 380 gigawatts of generation, 2 million miles of transmission and distribution lines, and 87 million customers in over 70 countries.
About Eos Energy Storage
Eos is developing a low-cost energy storage solution for electric utilities, with additional applications in commercial and industrial, telecom, and residential markets. Eos's mission is to produce safe, robust, cost-effective energy storage solutions that are less expensive than incumbent alternatives, such as gas turbines for power generation. Eos is located in Edison, NJ, and New York, NY. More information is available at www.eosenergystorage.com.
Featured Product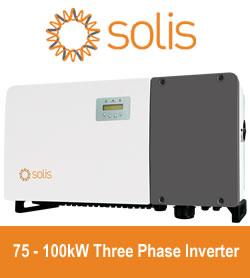 Solis75kW - 100kW series high-power string inverters are widely used in industrial and commercial rooftops. Solis's new three-phase string inverter is the first choice for industrial and commercial photovoltaics. 75-100kW three phase series string inverter have Maximum 28 strings input, support "Y" type connection in DC side. Maximum string input current 13A, support bifacial modules access.Supports anti-PID function to improve system efficiency.