New Joint Venture Combines Solar Power Expertise with Global Investor Backing
A new joint venture company, AMP Solar UK Ltd ("AMP Solar UK" or the "Company), launches today, combining the expertise of three established solar energy firms and the financing support of Apollo Investment Corporation (NASDAQ: AINV). Against a backdrop of steadily increasing energy prices, AMP Solar UK will offer both free and paid-for fully managed solar energy programmes, allowing customers to benefit from cheaper energy, and potential new sources of income.

Among the parties to the joint venture, MAP Environmental Ltd is responsible for origination, lead-generation and marketing, AMP Solar Group Inc contributes experience in solar asset development, finance and asset management globally, while Sustain Energy Solutions Ltd brings extensive knowledge and skill in undertaking EPC and O&M contracts for both ground-mount and rooftop solar projects, including for housing associations. Collectively, the parties have successfully developed and constructed over 400MW of solar assets globally.
AMP Solar UK was established to acquire, build and manage a portfolio of over 300MW of ground-mount, commercial and residential solar energy installations. The Company's special focus will be on social housing rooftop developments, with the goal of bringing at least 75,000 tenants out of fuel poverty. In addition, AMP Solar UK has a significant portfolio of planned ground-mount projects.
Developers, commercial landlords, housing associations and other potential end-users can purchase solar systems outright from AMP Solar UK, thereby producing an income from generated power. Alternatively, end-users can opt for a no-cost managed installation and benefit from a Power Purchase Agreement, through which they will receive heavily discounted energy, with costs fixed over a 20-year term.
About AMP Solar Group Inc.:
AMP Solar Group Inc. is a Toronto-based market-leading solar developer who offers significant expertise in renewable energy project development, M&A, finance, trading, risk and construction management. The company has a proven track record of over 150 MW of projects either built or under construction, and is actively developing large portfolio's of solar assets in a number of global markets.
About AMP Solar UK Ltd
AMP Solar UK Ltd is a joint venture created by three established solar companies: Toronto-based AMP Solar Group Inc, UK-based MAP Environmental Ltd. and Sustain Energy Solutions Ltd, with financing support provided by Apollo Investment Corporation (NASDAQ: AINV). Created to acquire, build and manage a diverse portfolio of ground and building mounted solar assets, AMP Solar UK has a special focus on housing associations and social housing. For additional information about AMP Solar UK, please visit www.ampsolarUK.com
About MAP Environmental Ltd
Our innovative approach sees MAP Environmental classified as an Energy Service Company (ESCO). This means MAP Environmental provides a broad range of energy solutions including design and implementation of energy savings projects, retrofitting, energy conservation, energy infrastructure outsourcing, power generation, energy supply and risk management.
In essence, MAP Environmental acts as a project developer, integrating project design, finance, installation and operational elements. MAP Environmental offers a highly experienced and effective delivery mechanism providing the maximum amount of energy efficient resources where available. MAP Environmental differentiates itself from other ESCO's and energy efficiency contractors by guaranteeing energy savings. These savings could be a fixed rate over a given period or a rate that fluctuates with the market on a month-to-month basis.
MAP Environmental and its partners have designed, built and financed some of the UK's largest and most complex ground mount solar PV projects to date. With a portfolio in excess of 200MW of solar PV constructed in the UK, MAP Environmental and its partners are one of the largest Ground Mount solar developers in the UK providing clean energy to thousands of homes across the UK.
About Sustain Energy Solutions Ltd
Sustain is one of the UK's leading Solar PV installers and operation & maintenance service providers, having developed systems, processes with a team who have delivered in excess of 10,000 domestic installations and 100MW of commercial rooftop and ground mounted installations, in the last 24 months
As the EPC of choice for a number of UK Solar Investors Sustain have grown since its inception to a solar business that can complete up to a 1,000 domestic/ residential properties each week and 150MW of Commercial Rooftop and Ground mount installations each year. The business is built on a base of solid engineering skills and ideals always working to increase yield or reduce capital cost by utilising engineering knowledge with industry approved best practices to provide the most efficient solution available.
Having invested heavily in technology, the Sustain paperless system allows clients to have access to the documentation on a project, on line and in real time, this gives our clients a bankable solar asset in both the solar product installed along with the extensive document suite.
Sustain offer a true turnkey solution, from project inception through to completion, incorporating the planning, technical design, supply, logistical delivery and operational aspects of the project. Sustain's ability to offer fully certified installations of Solar PV systems from 1KW to 42 MW, complemented by a full project specific O&M service, makes them the partner of choice in the delivery of all solar PV projects market wide.
About Apollo Investment Corporation
Apollo Investment Corporation (NASDAQ: AINV) is a closed-end investment company that has elected to be treated as a business development company under the Investment Company Act of 1940. The Company invests primarily in various forms of debt investments, including secured and unsecured loan investments, and/or equity in private middle-market companies. The Company may also invest in the securities of public companies and structured products and other investments such as collateralized loan obligations. The Company seeks to provide private financing solutions for private companies that do not have access to the more traditional providers of credit. Apollo Investment Corporation is managed by Apollo Investment Management, L.P., an affiliate of Apollo Global Management, LLC, a leading global alternative investment manager. For more information, please visit www.apolloic.com.
Featured Product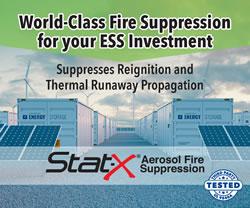 Stat-X® condensed aerosol fire suppression is a solution for energy storage systems (ESS) and battery energy storage systems (BESS) applications. Our Stat-X condensed aerosol fire extinguishing product was tested for efficacy in suppressing li-ion battery fires. It was found that the product successfully extinguished single and double cell battery fires. This testing was conducted in parallel with a large battery fire testing program on behalf of a large energy storage company.