"NextChallenge was developed as a way to source ideas, concepts and intellectual properties that will drive technology innovation and economic development"
LANSING, Mich., Nov. 19, 2014 – Today at the Michigan Advanced Lighting Conference, NextEnergy officially launched NextChallenge, a global challenge aimed at inspiring the development of innovative energy solutions.

"NextChallenge was developed as a way to source ideas, concepts and intellectual properties that will drive technology innovation and economic development," Said Jean Redfield, president and CEO, NextEnergy. "We are confident that the challenge will encourage the development of advanced lighting solutions and that local advanced lighting manufacturers will rise to the challenge with innovative solutions that will spur economic and industry growth in Michigan."
The challenge will address the unique lighting technology needs of Ford Motor Company and RecoveryPark, a major urban farming operation located in Detroit.
Innovators will be asked to submit an online Request for Solutions proposal to one, or both, lighting challenges by 11:59 pm EST on March 6, 2015. A judging panel will review the submissions based on the following objectives: innovation, partnerships, qualifications, competitive advantage, scalability, and Michigan-based intellectual property and investment. Selected semi-finalists will be expected to present their proposals to the sponsor(s) in early spring and awards will be announced in May 2015.
Ford Motor Company is seeking innovative interior and exterior vehicle automotive lighting concepts that will add value and differentiation to its portfolio of products.
"Our goal is to find solutions that help us maintain our leadership in lighting innovation," said Dean Stevenson, chief engineer, Ford Global Design Engineering. "We are particularly interested in receiving concepts related to weight and luminosity, cost-effective production, innovative interior and exterior LEDs, and recyclable lighting."
RecoveryPark is seeking solutions that optimize agricultural lighting systems for greenhouses and hydroponic operations.
"We are interested in optimizing our plant yield through advanced lighting technologies," said Gary Wozniak, president and CEO of RecoveryPark. "Our objective is to find a cost effective, energy efficient, customized lighting system that will react to various environmental conditions."
For each challenge, up to $80,000 in the form of cash and/or in-kind support will be awarded to further the development and demonstration of the selected initiatives. Michigan-based winners are eligible for up to $80,000 cash and/or in-kind and non-Michigan-based winners are eligible for up to $40,000 in-kind support.
The Lighting NextChallenge is sponsored by NextEnergy, Ford Motor Company and RecoveryPark. For more information, visit nextenergy.org/nextchallenge.
About NextEnergy:
Founded in 2002 as a 501(c)(3) nonprofit organization, NextEnergy is one of the nation's leading accelerators of advanced energy technologies, businesses and industries. NextEnergy drives technology demonstration and commercialization; delivers industry and venture development services; and provides an authoritative voice in the public sector. Since its inception, NextEnergy has helped attract more than $1.4 billion of new investment in the state of Michigan, including programs in excess of $160 million in which NextEnergy has directly participated. For more information, visit nextenergy.org.
Featured Product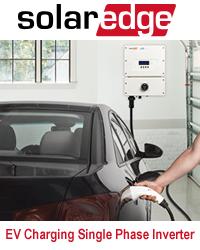 The SolarEdge PV inverter combines sophisticated digital control technology with efficient power conversion architecture to achieve superior solar power harvesting and best-in-class reliability. The fixed-voltage technology ensures the solar inverter is always working at its optimal input voltage over a wider range of string lengths and regardless of environmental conditions. A proprietary data monitoring receiver has been integrated into the inverter and aggregates the power optimizer performance data from each PV module. This data can be transmitted to the web and accessed via the SolarEdge Monitoring Portal for performance analysis, fault detection and troubleshooting of PV systems.