Nearly $2.4 Billion in Orders for the $500 Million Offering
Ontario Ministry of Economic Development, Employment and Infrastructure Ontario has successfully launched a green bond program with a bond issue of $500 million, making it the first government in Canada to issue green bonds. There was strong demand for Ontario's first green bond, with orders approaching $2.4 billion from green investors in Canada as well as in the United States, Europe and Asia. 

This first issue secures Ontario's presence in the green bond market and brings visibility to the province by encouraging investments in sustainable projects and attracting new investors.
"These attractive new bonds prove a solid appetite exists among international investors who are looking to invest in a secure and socially responsible manner. This green bond issue demonstrates our government's commitment to building modern infrastructure, supporting a dynamic and innovative business climate, spurring economic growth and creating new jobs for a stronger Ontario. Ontario's green bond program will help us invest in transit and other sustainable infrastructure projects across the province, which will help create new opportunities for all Ontarians," said Charles Sousa, Minister of Finance, Province of Ontario.
Ontario's green bond program will help finance transit and other environmentally friendly infrastructure projects across the province, supporting job creation and strengthening the economy. The Eglinton Crosstown Light-Rail Transit (LRT) has been selected as the green project that will receive funding from the inaugural issue. 
The Eglinton Crosstown LRT will provide environmental benefits to the region and is the largest transit expansion project in Toronto's history. Currently under construction, the completion date is 2020.
"This is a win-win for the people of Ontario and for the environment. Building the Eglinton Crosstown is vital infrastructure to the City of Toronto and the surrounding regional economy. I can think of no better investment in infrastructure than one that does double duty — helping both the economy and the environment," said Brad Deguid, Minister of Economic Development and Infrastructure, Province of Ontario.
The province's green bond program is part of the government's economic plan for Ontario. The four-part plan is building Ontario up by investing in people's talents and skills, building new public infrastructure like roads and transit, creating a dynamic, supportive environment where business thrives, and building a secure savings plan so everyone can afford to retire. Ontario's 2014 budget committed more than $130 billion in infrastructure over the next 10 years.
Ontario's Green Bond Framework sets out the types of projects that may be eligible for green bonds. Without limitation, projects that have environmental benefits as determined by the Province and fall in the following categories are generally considered eligible, excluding fossil fuel and nuclear energy projects:
1. Clean transportation
2. Energy efficiency and conservation
3. Clean energy and technology
4. Forestry, agriculture and land
The initial four-year green bond issue was available through Ontario's current dealer group to Canadian and international institutional investors to help establish a Canadian-dollar green bond market.
Pioneered by the World Bank in 2008, green bonds are a tool for raising capital for a project with specific environmental benefits.
Featured Product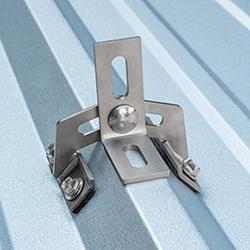 Explore new lines of income for your solar installation business with QuickBOLT's Stone Coated Steel roof mounts designed in partnership with metal roof manufacturers themselves. These SCS roof mounts work on all metal tile profiles and will help you bring in money you're missing out on. By not driving into the roofing material, QuickBOLT's Stone Coated Steel roof hooks maintain the integrity of the roof. Install with ease and confidence knowing your roof is protected against the harsh elements that these hooks are designed for.