The biorenewables sector was instrumental in generating this growth, creating high-paying jobs and attractive economic opportunities for investors.
Washington, D.C. (November 26, 2014) – Executives and investors from the biofuels, specialty enzyme, renewable chemicals, algae and agriculture industries will come together at BIO's 9th Annual Pacific Rim Summit on Industrial Biotechnology and Bioenergy on December 7-9 in San Diego to discuss future industry growth and partnerships. In 2013, California's life science industry created almost $259 billion in economic activity for the state. The biorenewables sector was instrumental in generating this growth, creating high-paying jobs and attractive economic opportunities for investors.

"California's flourishing industrial biotech sector makes the region an ideal location to hold discussions about the future of the biobased industry," said Brent Erickson, executive vice president for BIO's Industrial & Environmental Section. "With new startups and strong academic research programs, the industrial biotechnology sector has become an economic driver for the state. Company executives and investors will find plenty of networking opportunities and idea sharing at this year's Pacific Rim Summit. California is seen as a national leader in advanced biofuels technology, algae platforms and renewable chemical development. This conference will highlight California's continued leadership in this innovative biotech space. "
In evaluating the economic impact of biotechnology in the California, BayBio and Biocom found that the biorenewables industry in Northern California generated almost $1.8 billion in regional economic activity and supported almost 5,600 total jobs in 2013. The average wages in the sector exceed $40,000 per year across the region. In Southern California, the sector supported over 12,700 jobs and generated nearly $3 billion in economic activity. The average wages in the sector exceed $56,000 per year across the region.
"The return of this summit to San Diego is fitting given the large players in the space who are driving biorenewables in the region," said Joe Panetta, president and CEO of Biocom. "There is something to be said about the innovation taking place in San Diego that draws companies here for industry meetings, networking and collaboration."
"As California is the birthplace of biotechnology, it's fitting to bring together the industry's leaders in San Diego," said BayBio President and CEO Gail Maderis. "Biorenewables are one of the corner stones of California's life science innovation, and our researchers are leading the way in developing sustainable chemicals, more efficient processes and new materials."
Looking at this industry across the United States, BIO has projected that U.S.-based jobs for the biorenewables sector will rise from approximately 40,000 in 2011, which represents 3 to 4 percent of all chemical sales, to more than 237,000 by 2025. This employment level would represent approximately 20 percent of total chemical sales. Additionally, by 2017, the USDA-Nexant Renewable Chemicals Market Assessment predicts a potential value add of $775 million per year for renewable chemicals with capital investment of $2.4 billion. By 2022, the value added potential is estimated to rise to $3 billion per year with $6 billion capital.
These issues and more will be highlighted during the Renewable Chemical Platforms and Advanced Biofuels and Biorefinery Platforms Tracks at the conference. Additionally the Monday, December 8, lunch plenary session, Innovative Technologies to Transform the Biobased Economy, will bring together industrial biotechnology thought leaders to discuss technology breakthroughs in renewable specialty chemical applications and biobased products. BIO's Pacific Rim Summit on Industrial Biotechnology and Bioenergy will be held at the Westin Gaslamp Quarter.
Online registration can be found here: http://www.bio.org/events/conferences/pacific-rim-summit-registration.
For more information about the conference, please visit http://www.bio.org/pacrim. For assistance, please contact pacrim@bio.org or 202-962-9200.
All programs at the Pacific Rim Summit on Industrial Biotechnology and Bioenergy are open to attendance by members of the media. Complimentary media registration is available to editors and reporters working full time for print, broadcast or web publications with valid press credentials.
About BIO
BIO is the world's largest trade association representing biotechnology companies, academic institutions, state biotechnology centers and related organizations across the United States and in more than 30 other nations. BIO members are involved in the research and development of innovative healthcare, agricultural, industrial and environmental biotechnology products. BIO also produces the BIO International Convention, the world's largest gathering of the biotechnology industry, along with industry-leading investor and partnering meetings held around the world. BIOtechNOW is BIO's blog chronicling "innovations transforming our world" and the BIO Newsletter is the organization's bi-weekly email newsletter. Subscribe to the BIO Newsletter.
About BayBio
BayBio brings together the collective strength and experience of the world's most innovative and productive life science cluster, helping companies grow, connect and advocate to solve some of humanity's most pressing challenges. BayBio provides comprehensive support and solutions tailored to the unique needs of nearly 1000 Bay Area life science companies and institutions, delivering tangible value through group purchasing savings, capital access, government affairs & advocacy, networking and best-practice sharing. BayBio also supports the future of bioscience innovation through the BayBio Institute's work in science education, career development and entrepreneurship. Online at www.baybio.org.
About Biocom
Biocom is one of the largest regional life science associations in the world, representing more than 650 member companies in Southern California. The association focuses on initiatives that position the region's life science industry competitively on the world stage, and on the development and delivery of innovative products that improve health and quality of life. For more information on Biocom or the Southern California biotechnology and medical device community, please visit the organization's Web site at http://www.biocom.org or call (858) 455-0300.
Upcoming BIO Events:
BIO Pacific Rim Summit on Industrial Biotechnology & Bioenergy
December 7-9, 2014
San Diego, CA
BIO CEO & Investor Conference
February 9-10, 2015
New York City, NY
BIO Asia International Conference
March 24-25, 2015
Tokyo, Japan
BIO International Convention
June 15-18, 2015
Philadelphia, PA
Featured Product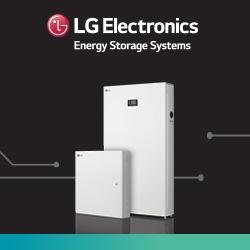 Meet LG Electronics Home 8 Energy Storage System (ESS), a whole home battery backup solution built with installers and their homeowner customers in mind. The ready-to-deploy Home 8 features just one SKU and a modular assembly for fast installation. It can be AC-coupled or solar-powered and is engineered with a grid-connected inverter, four battery modules, and a Smart Energy Box featuring a 7'' LCD touchscreen with commissioning wizard for easy setup. Each Home 8 unit can store up to 14.4 kWh of usable power, helping homeowners gain pure independence from the grid. Plus, installers can connect up to four units, bringing customers up to 57.6 kWh of total backup power-all easily managed and monitored through intuitive mobile apps.