~Renusol To Deliver Key Mounting Solution For Thin Film Panel Industry Leader Stion Corporation, Applicable In Residential, Commercial And Utility Scale Markets ~
Atlanta, GA—November 25, 2014— Renusol America, a leading provider of flat and pitched-roof solar PV mounting solutions with systems installed in 34 states across the US, today announces that it has been selected by Stion Corporation as a major provider of clamps for its Elevation 4 (STL-A) high performance thin film (CIGS) frameless modules. The new clamp, known as the Renusol VS Module Clamp, is PV mounting technology developed specifically for Stion's frameless, 'glass on glass' thin film modules and includes a rubber insert to protect the glass while providing maximum holding power. The clamp meets Stion's requirements for performance and aesthetics and the UL 1703 fire rating standards, which become mandatory in California in January 2015.

"Stion is leading the way in bringing high-performance, thin film PV modules to the solar market, and we are pleased to partner with them and apply our technology to this fast-growing market segment," said Renusol America President Bart Leusink.
Both the Renusol VS Module Clamp (as well as the Renusol VS "one-size-fits-all" pitched roof mounting system) and Stion's Elevation 4 (STL-A) thin film module are made in the USA. The frameless Stion module is set between two pieces of glass, which eliminates the need for aluminum frames and increases system reliability and durability and improves fire resistance. The modules' design, black color, and virtually invisible cells provide smooth, uniform aesthetics. The Renusol VS Module Clamp is designed for use in both rooftop and ground mount systems.
"Renusol America is a leading innovator in solar mounting systems in the US solar industry," said Josh Moore, Director of Product Management for Stion. "Selecting them to provide these clamps means having the latest in mounting system solutions for our installer and project development partners."
About Renusol America
Renusol America is a leading innovator in flat-roof and pitched-roof mounting systems for solar PV modules in the US solar industry. Combining a heritage of excellence in German engineering with American innovation, Renusol America has experienced exponential growth since its launch and is now among the top rooftop mounting solution providers in the US, with systems installed in 34 states. Renusol America utilizes this extensive experience to create mounting systems for solar modules that easily install on pitched and flat roofs. Renusol America provides sales, service, and customer support from its headquarters in Atlanta, Georgia and operates full-scale warehouse and distribution facilities across the country. Renusol America was acquired by Ohio-based RBI Solar in June 2014, creating a complementary source of solar rooftop and ground mount product and service solutions for the solar industry. More information at http://www.renusolamerica.com
About Stion Corporation
Stion is a leading U.S.-based manufacturer of high-efficiency thin-film solar modules and provider of solar solutions. Stion was founded in 2006 and is backed by Khosla Ventures, the largest institutional investor in clean technology in the U.S. Stion is headquartered in San Jose, Calif., and opened its first high volume production facility in Hattiesburg, Miss., in 2012. Stion's 700,000+ square foot manufacturing plant in Hattiesburg, Mississippi (MS) is one of the largest and most advanced solar manufacturing facilities in the United States. For more information, visit www.stion.com.
Featured Product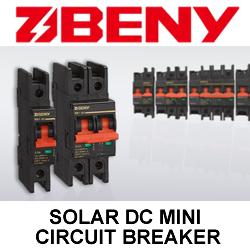 The BB1-63 modular miniature circuit-breakers can be used in solar DC circuits up to 1200 VDC (4-poles execution). Application in solar DC circuits, battery energy storage systems and UPS. Arc flash barrier design keeps solar equipment more safe and reliable. For DC circuit over-current protection.